Another suggestion for this time of "staying at home". Today we propose a ballet show, the famous Sawn Lake by Tchaikovsky, in a presentation by the Paris Opera.
In addition to seeing an excellent interpretation of the Sawn Lake you can take a virtual tour of the Palais Garnier where the Paris Opera is located.
---
---
The Palais Garnier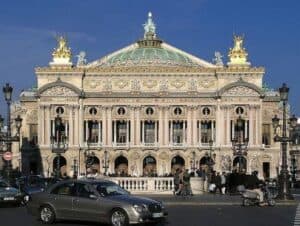 The Garnier Palace is one of the most iconic buildings in Paris and opened in 1875.
The building was part of the deep urban reform of Paris at the end of the 19th century. Because until that time Paris was very different from what we know today.
The urban reform of Paris
During the second half of the 19th century, the city of Paris was subject to a radical urban reform project, launched by the Emperor Napoleon III and put into practice by Baron Georges-Eugène Haussmann, between 1852 and 1870.
You can learn more about these reforms in this article.
his project had as its main aim to better the circulation of the urban fabric facilitating military manoeuvres as well as improve greatly the hygiene of the city.
In less than twenty years the city which still maintained medieval features, with narrow streets and open sewers, is transformed radically.
One of the main points of Haussmann's reformation is that of the Ille de la Cité into a military area, having for it destroyed hundreds of houses and built new housing.
The slums are destroyed, the streets now have illumination.
It is at this point that the main transit routes are built across the city. Squares with monuments, and boullevards become part of the landscape.
The two large woods (Bologne and Vaincennes) are created along with parks within the town (Jardin des Tulleries, Palais Royal, Parc Montsouris).
It is in this context that the Palais Garnier is built. The building is considered one of the architectural masterpieces of its time.
---
---
---
We count on you:
In the comments you can share with all colleagues suggestions and links for visits, initiatives, shows or online exhibitions.
Thanks!
---