In this post let's talk about gothic architecture and how gothic began. About the history of gothic architecture and gothic monuments .
Let´s see the phases of gothic architecture and the gothic revivals.
---
about gothic architecture
Gothic architecture is one of the most widely-recognized architectural styles in the world. Beginning in France around 1140 CE and spreading throughout Europe over the next four centuries, it's practically synonymous with the European Middle Ages.
Gothic is closely associated with churches, like Notre Dame in Paris, Canterbury Cathedral in England, and Cologne Cathedral in Germany. In fact, nearly all the great medieval cathedrals were built in the Gothic style, and it's still common for churches all over the world even today. The word "Gothic" often calls to mind steep spires, soaring vaults, beautiful stained glass, and mysterious gargoyles.
How Gothic Began
The origins of Gothic architecture can be traced back to a 12th century French clergyman named Suger (1081-1155), who was abbot of Saint Denis and friend and advisor to King Louis VII of France. Saint Denis was a wealthy and important monastery just outside of Paris. It was supported by the kings of France and held the relics of Saint Denis, the patron saint of Paris. Around the year 1140, Suger decided that the church at Saint Denis wasn't big and impressive enough for a significant monastery with royal connections. He wanted something more spectacular, and what he  created a new architectural style that would eventually spread throughout Europe.
"moved by divine inspiration and encouraged by the council of wise men as well as the prayers of many monks, in order to avoid the displeasure of the holy martyrs I undertook to enlarge and amplify the noble monastic church consecrated by the divine hand" – Abbot Suger, Book of Suger Abbot of Saint Denis On What Was Done During His Administration. Suger wrote extensively about his work on Saint Denis.
about gothic architecture and its characteristics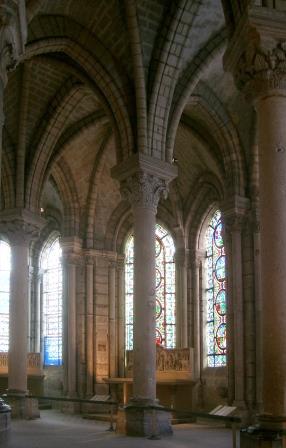 Let's talk about gothic architecture and its 3 key attributes. The new choir that Suger had built for Saint Denis was the first Gothic structure. (The rest of the church is in a later form of Gothic that we'll learn about a little later.)
It is one of the best exampes to talk about gothic architecture and its characteristics. As you can see in the picture it is light, airy, and filled with large windows. Instead of thick walls and massive columns, only thin piers support the soaring vault above.
It's a great example of Gothic's three key attributes.
Verticality: In Gothic, everything emphasizes verticality. Long, spender columns and elongated arches draw the eyes up to the soaring vaults. The vaults are higher, but the architecture is also designed to make you look up, and that emphasizes their height even more. By contrast, Romanesque's wide arches and broad columns emphasize horizontal features.
Lightness: Gothic churches have large and plentiful windows of beautiful stained glass. Stained glass doesn't let in tons of light, but it does fill the church with brilliant colors.
Weightlessness: Unlike the solid and earthbound Romanesque, Gothic architecture seems to be light as a feather. The vaults almost appear to stay up by magic, with only stained glass and thin columns below. In some Gothic buildings, it seems as though that there's more glass than stone.
about gothic architecture and its phases
Like any other style, Gothic architecture didn't remain constant across the centuries. It changed and developed over time. French Gothic is generally divided up into four phases. Gothic had different phases and chronologies in England, and other countries. Let's talk about gothic architecture and its phases in France.
Early gothic (c. 1140-1190)
The first phase of Gothic architecture is called early or transitional because it represents the period of transition from Romanesque to Gothic. Early Gothic includes the features and attributes of gothic architecture such as pointed arches, flying buttresses, and verticality, but they're still in development. Sens Cathedral and Notre Dame of Paris are two examples of Early Gothic churches .
High gothic (c. 1190-1230)
In this phase, Gothic elements like flying buttresses had fully developed and now made it possible to create tall, impressive, and light-filled structures. High Gothic churches tend to be taller than their predecessors, with larger windows.
They are elegant but decoratively simple compared to what would come next. This phase is also called Classic. Chartres, Amiens, and Reims are three well-known High Gothic churches.
Rayonnant (c. 1230-1350)
The difference between High Gothic and Rayonnant is mainly decoration. In particular, tracery became much more plentiful and elaborate in this phase.  In fact, it's the radiating (rayonner in French), wheel-like tracery in Rayonnant rose windows that gives the style its name. By the Rayonnant period, the windows have become so large that there's very little stone left in the walls.
The Sainte-Chapelle and the nave of Saint Denis are examples of Rayonnant Gothic.
Flamboyant gothic (c. 1350-1500s)
The final phase of Gothic in France, the Flamboyant style gets its name from its curving and flame-like (flamme in French) tracery. Again, this style is primarily differentiated by its decoration, which is even more elaborate than before. Flamboyant churches may have complex vaults in which extra nonfunctional ribs create decorative patterns.
Tours Cathedral is an example of Flamboyant Gothic.
the gothic architecture revival
Let's talk a little about gothic architecture revival. After being largely forgotten for a few centuries, Gothic was eventually appreciated again. In fact, people began to once again build in a Gothic-inspired style called Gothic Revival. The Gothic Revival began in 18th-century England and gained widespread popularity in the 19th century.
One big reason for this was an artistic and literary movement called Romanticism, which took off during this time. Romanticism is too complex to talk about in much detail here. So let's just say that it was strongly based on  emotion and subjectivity. This was in large part a reaction against the extreme logic and rationality of the Renaissance and later periods, as well as the impersonal Industrial Revolution. Romanticism inspired a whole series of revival architectural styles, in which architects went back to older styles or adopted foreign ones. Gothic Revival was among the most popular of these revivals. Works of Gothic literature (horror novels like Mary Shelley's Frankenstein) were part of this Romantic movement, and they further fed the interest in Gothic architecture. Many European countries wanted to explore and celebrate their medieval roots at this time, so nationalism also contributed to Gothic Revival's popularity.
---