The online course with certificate Preservation of books and documents systematizes the ways of identifying the pathologies, knowing the precautions to be taken, the methods and procedures to be applied, the prevention techniques and the ways to minimize the damage, carrying out paper repairs.
Books and documents are part of our heritage and are especially important to us on a personal level, as they can contain invaluable memories.
How can we keep our documents and books in good condition for many long years?
The Preservation of books and documents course fee includes 24-hour access for an unlimited time to:
Lessons for each theme of the program
Downloadable texts
Explanatory videos
Evaluation (1 final questionnaire)
Certificate.
In the Preservation of books and documents online course you will learn
At the end of the Preservation of books and documents online course, participants will be able to:
know materials, supports and constituent elements of books and documents
identify the main pathologies in documents and books and their causes
maintenance operations and repairs on documents and books
know the methods for the preservation of documents and books
The course is accompanied by detailed instructions and tutorial videos of all interventions.
Let us show you a small example
Suggested procedure for cleaning a bound volume
Who should take this Course? 
This course is intended for all those who have books and graphic documents (archives, libraries, booksellers, collectors) in their custody or for all those who wish to preserve their own books and documents.
No access requirements
Certificate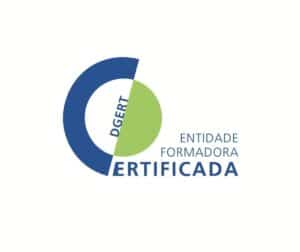 At the end of the course, a training certificate will be issued . Know more.
We are a training entity certified by DGERT – Training Entity Certificate No. 1800/2015 – so the certificate has international validity.
The course price (a single payment) includes all content, assessment and certificate. The value is exempt from VAT under paragraph 10 of Article 9 of the CIVA.
Learning
The Preservation of books and documents course is organized in parts or modules in order to facilitate the learning sequence.
However, you can freely browse the entire course without any restrictions 24 hours a day, according to your interests and your own work method.
You can consult here the Rules of Operation of Online Courses
Preventive Conservation
Interventional and curative conservation
Restoration
2.1. Writing materials
2.2. Inks
2.3. Adhesives
2.4. Bookbinding  
3.1. Main agents of deterioration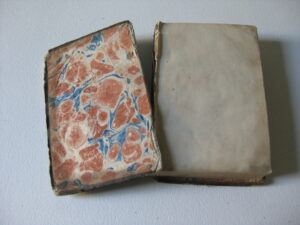 3.2. Main agents of damage and loss
3.3. Most common types of damage
4.1. Cleaning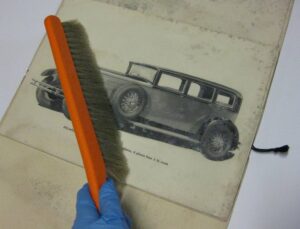 4.1.Flattening
4.1. Consolidation and repair of damage
5.1. Handling and transportation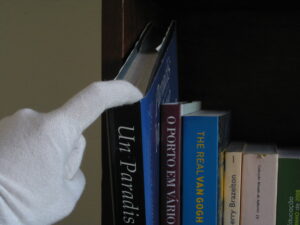 5.2. Storage
5.3. Maintenance and cleaning
5.4. Integrated pest management
5.5. Environmental management
5.5.1. Temperature and relative humidity
5.5.2. Light and invisible radiations
5.5.3. Pollutants and contaminants
Overall course evaluation – 4,5
(scale 1 – 5)
What students say about the course
Critical analysis and opportunities for improvement
Although the results obtained are very good, some opportunities for improvement were detected from the comments.
Some comments mentioned that the platform's usability and navigation in the various lessons could be improved. The website and platform have been reformulated in order to provide greater comfort and ease of access.