The online course of conservation and restoration of ceramics systematizes the methods and procedures of intervention, exemplified with practical cases.
Language: English.
Also available in: Português | Español.
The course price includes  lifetime 24/7 access to:
Lessons for each program topic
Tutorial videos
Work instructions
Case study analysis
Evaluation (1 final quiz)
Certificate.
Learning objectives
You will learn the processes of alteration and systematize the methods and techniques of intervention in the restoration of ceramics .
An active method is used, illustrated with images and video tutorials of the different phases of intervention.
At the end of this online course on conservation and restoration of ceramics you will be able to recognize the main pathologies and their causes.
You will learn about internationally accepted ethical and deontological principles.
You will learn, through the analysis of real interventions carried out by conservation and restoration technicians, the methods, techniques and materials of intervention applicable in different situations.
Who should take the Conservation and Restoration of Ceramics online course ?
This online course in ceramics conservation and restoration is aimed at:
Technicians and students in the field of conservation and restoration.
Museologists.
Professionals in the area of historical heritage.
Collectors and gallery owners.
However, it is perfectly suited to anyone interested in the topics covered.
No access requirements.
Certificate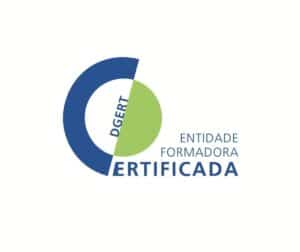 At the end of the course, a training certificate will be issued . Know more.
We are a training entity certified by DGERT – Training Entity Certificate No. 1800/2015 – so the certificate has international validity.
The course price (a single payment) includes all content and certificate. The value is exempt from VAT under paragraph 10 of Article 9 of the CIVA.
Learning
The course is organized in parts or modules in order to facilitate the learning sequence.
However, you can freely browse the entire course without any restrictions 24 hours a day, according to your interests and your own work method.
You can consult here the Rules of Operation of Online Courses
1 – CONSERVATION – Concepts and principles
Conservation concepts and principles.
Intervention process.
Key principles on Conservation and Restoration.
2 – PREVENTIVE CONSERVATION
What does preventive conservation involve?
Advantages of preventive conservation.
3 – PRODUCTION TECHNIQUES
Types of Ceramic Pastes.
Types of production.
Decoration and painting techniques.
4 – CONSERVATION AND RESTORATION OF CERAMICS
Analysis and Diagnosis.
Main Pathologies and their causes.
4.1. PROCESS OF INTERVENTION IN THE RESTORATION OF CERAMICS
Cleaning.
Removal of old restorations.
Resins, adhesives and glues.
Gluing of fragments of ceramics.
Filling of gaps.
Chromatic reintegration.
5 – CASE STUDIES
Analysis of 3 real interventions in the conservation and restoration of ceramics.
Real intervention processes on different types of ceramic materials will be analyzed.