Denial of Peter
The Denial of Peter in the Basilica of the Sagrada Familia in Barcelona is just one of the sculptures by Josep Maria Subirachs in this Basilica.
The Sagrada Familia, by Antoni Gaudí, is one of the most important and emblematic monuments in the history of world architecture.
The Façade of the Passion in which "The Denial of Peter " is integrated began to be built in 1954, following the drawings and indications left by Gaudí.
In 1987 Josep Maria Subirachs led a team of sculptors who created the 26 sculptural sets that decorate the facade.
The rigid, angular figures have a dramatic effect on the observer.
Denial of Peter is depicted on the right side of the door (marked with the dot in the image).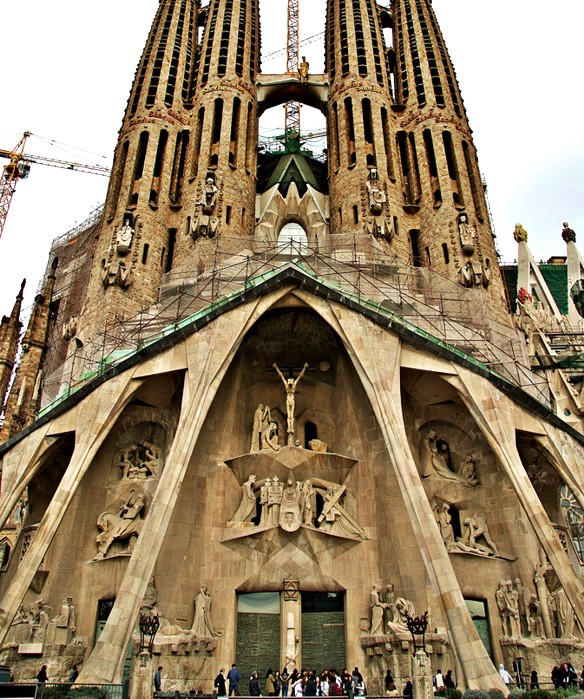 How to identify "the Denial of Peter " and other representations in art
At the Council of Nicaea in 787, the use of icons and related representations was approved as an integral part of Christian tradition.
Norms were determined about the forms of representation and decorative schemes in the Christian churches of the East, norms that are followed to this day.
In the churches of the West, however, these norms were followed until about the 13th century, when a differentiation of styles began to take place between the Christian East and West.
The Christian Church in the East will continue to use icons (flat or bas-relief portraits with stylized representations of religious figures), while in the West more freedom of expression is given to the artist.
Iconography in contemporary art

Creative freedom in contemporary art does not set aside the use of iconography and representations when the artist intends to identify biblical figures or scenes.
This is how in the Passion Façade we can identify each of the scenes represented in each sculptural set.
In the image below, we identify Peter by some of his most frequent attributes and representations.
Click on the marked points to see the description.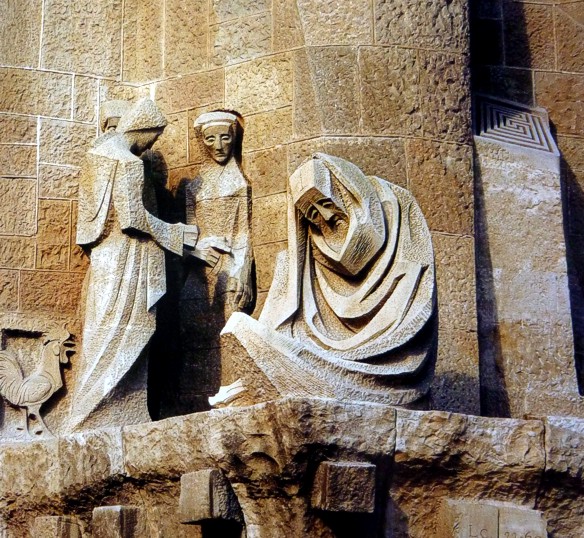 Repentance of Peter – he heard the rooster crow and recalled the Jesus prediction. Peter then began to cry bitterly.
after the third denial the rooster crowed as Jesus had predicted
Labyrinth – way to the cross
Attributes and representations of Saint Peter
Common representations
Old, with a rounded beard and gray hair;
Wearing a blue tunic with an ocre-coloured cloak;
The scene of the denial;
Penitent;
The scene of the release by the Angel;
Quo Vadis Domine (Where are you going, my Lord?);
His crucifixion scene
Attributes
Two keys, one of gold (power of absolution) and one of silver (power of excommunication);
Boat and fish;
Rooster;
Chains;
Papal cross (alludes to his position as the first Pope of the Church)
You may be interested in the online courses