When looking at the values achieved by the most expensive photo in the world it is worth thinking about what photography is today.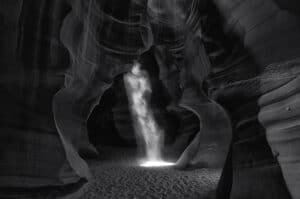 What is photography today
Instant capture of images that we easily share.
A way of preserving memories.
Technique used in the most diverse scientific areas.
Powerful marketing and advertising tool.
A vehicle of intervention and social denouncement.
And we could go on enumerating various areas of knowledge and society in which the function of photography is indispensable.
But beyond all these functions and looking at the most expensive photo in the world we perceive photography also as a technique for the production of art.
Photography is now part of Art History.
---
Cover image: Phantom by Peter Lik Source: https://news.artnet.com/market/new-york-times-exposes-peter-lik-photography-scheme-264858
---
The most expensive photo in the world | Phantom by Peter Lik
Over time, photography has gained notoriety and many photographs are nowadays disputed and paid the price of gold, being elevated to the status of many works of art.
Presently, the most expensive photo in the world was taken by Australian photographer Peter Lik and is worth $6.5 million (about 5.8 million euros), marking Art History.
The sale took place in 2015, was private and the buyer remained anonymous.

In his productions, Peter Lik is often drawn to Arizona's Antelope Canyon.
It was here that he took the photograph "Phantom."
The black and white depiction of a carved canyon gorge that has been chiseled by the natural flow of water over the course of millions of years in the Southwestern region of the United States.
The photograph's title "Phantom" interprets the ghostly nature of its depiction.
In an interview, Peter Lik admitted that the purpose of his photographs is to "print the force of nature".
In this photograph, there is a puff of dust that swirls in the breeze, like a veil.
The most expensive photo in the world superseded Rhein II by Andreas Gursky
Phantom supplanted Rhein II by visual artist Andreas Gursky, which in 2011 sold at Christie's auction for $4,338,500 (about €3.9 million).
Rhein II is the second of a set of six depicting the river after which they are named.
It depicts a panorama of the Rhine River, among green fields and an overcast sky.
Details such as people walking their dogs and a factory have been digitally removed by the author.
Gursky justifies the manipulation of the image with his desire to produce a faithful representation of the river as it is known today, and which is not possible to obtain in situ.
Andreas Gursky represents a new generation of photographers trained at the Düsseldorf School of Photography.
Gursky is best known for his detailed images of vast supermarket areas.
The success of "Rhein II" surprised the photographer himself, as he considered his picture one of the most boring he had ever created.
Learn more about conservation with the online courses