How long have we thought about organizing those family pictures we have in boxes, drawers and and envelopes?
And how many are not already deteriorated for not having the proper packaging?
This is a job that we can develop easily with the appropriate methodologies.
We therefore asked for some advice from Yolanda Silva, author of the online course Conservation of Photography.
---
Photography and memory
Each photo contains written within itself a fragment of history.
The family pictures tell us pieces of stories of our life or our family and friends, and in wider scale, it reports historical moments and social events.
In order to ensure the permanence of their testimony, preservation measures must be applied to our family pictures or personal albums.
Methodology for organizing and preserving family pictures
1. Survey of the photographs and/or collections
It's our first analysis of the prints and it includes inspecting and evaluating.

Important steps:
       a – Individual identification (and collective, where appropriate) of the prints,
       b – Identifying "problems": inspection of the prints one by one, taking notes on information from those which are more degraded (we can determine at this point which photographs need priority treatment);
2. Inventory and description
a – Relevant information to be collected can be divided into 4 parts:
             i. General identifying information: identification (inventory number), property and location, categories in which it is inserted, type, assigned title,
ii. Technical information: materials of the components (support, emulsion, side decoration), dimensions and colours;
             iii. Conservation status and interventions (with date and location specifications, the intervention process and authorship)
             iv. Observations and other details (includes exhibitions, bibliography in which it featured history details, marks or inscriptions, etc.)
       b – Procedures to be followed when filling up the inventory forms;
       c – Printed or digital record (or both – more advisable);
The table below has suggestions for creating an inventory sheet that you can adapt to your family pictures
Photography information
Name / Title
(name by which it is known or attributed title)
Inventory number
(the number to which it corresponds within the inventory)
Ownership
(who owns the print)
Type
(i.e. photogravure, albumen print, undetermined, etc.)
Location
(where is it: room, cabinet number, box, etc.)
Digital image
(reference or name of the digital replica and its location; includes name of file, size, dates of production and resolution)
Description
(description of the contents of the image, from general to finer details, identifying, whenever possible, places and people; in free text)
Technical information
Support material
(i.e.: paper, glass…)
Register material
(i.e.: dye, silver nitrate…)
Emulsion binder
(i.e.: gelatine)
Chromatism
(monochromatic or polychromatic?)
Dimensions
(its size – usually in centimetres)
Other supports
(does it have a secondary support? out of which material is it made of?)
Conservation Status
Conservation Status

Date of evaluation

(general evaluation; i.e.: stable, 21-08-2013.)
Details
Marks or inscriptions
does it have any other marks, inscriptions, stamps, written notes, etc.? where? in which method? what does it read?)
Exhibitions
(did it participate of any exhibit? which one? when? where?)
Bibliography
(books or publications in which the print featured)
Notes
(all other relevant information)
3. Evaluation of the type of storage recommended 
(evaluated according to differences and intrinsic needs) and the area intended for storage/deposit:
 a – Packaging materials (envelopes, boxes, albums; conservation related products and cleaning products, if necessary);
 b – Essential monitoring instruments (taking in account if they are financially sustainable);
 c – Space: shelves, cabinets, etc.;
---
You can find out more about packaging materials in the post Why use acid free paper for packaging and preserving old photos?
---
4. Duplication program
(which may include aspects related to the exposure that we intend to give to the print or its respective duplicate);
We count on you:
In the comments you can share with all colleagues suggestions and links for visits, initiatives, shows or online exhibitions.
Thanks!
---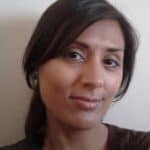 Yolanda Silva
Graduated in Art History (Faculdade de Letras of the University of Porto). Her career led her to work at the Municipal Historical Archive of Porto and the Museum of ISEP, with inventory and conservation of Photographic collections. She wandered around the world of antiquaries and tourism, until becoming a professional trainer/tutor, dedicating herself to the areas of Art History, Iconography and Conservation of Photography. She currently works at the Department of Culture of Porto, within the scope of Heritage. Has several written works / published in the areas of Art History, Iconography and Conservation.
online courses by the author