Photo Storage – how to develop a Photography Preservation Program "At home" in 5 steps
This article aims to give indications on how to do a photo storage program of our private collections.
You can learn more about photo conservation in the online course Preventive Conservation of Photography

Each photo contains written within itself a fragment of history.
It tells us pieces of stories of our life or our family and friends, and in wider scale, it reports historical moments and social events.
In order to ensure the permanence of their testimony, preservation measures must be applied, either within archives and museum collections, or even to our personal albums.
The photo storage is  the first step towards conservation.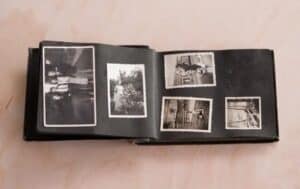 In our personal "domestic" preservation program, we can determine several phases for photo storage and photo preservation:
1. Survey of the photographs and/or collections.
it's our first analysis of the prints and it includes inspecting and evaluating.

Important steps:
Individual identification (and collective, where appropriate) of the prints,
Identifying "problems": inspection of the prints one by one, taking notes on information from those which are more degraded (we can determine at this point which photographs need priority treatment);
2. Inventory and description.
a) Relevant information to be collected can be divided into 4 parts:
i. General identifying information: identification (inventory number), property and location, categories in which it is inserted, type, assigned title.
ii. Technical information: materials of the components (support, emulsion, side decoration), dimensions and colours.
iii. Conservation status and interventions (with date and location specifications, the intervention process and authorship).
iv. Observations and other details (includes exhibitions, bibliography in which it featured history details, marks or inscriptions, etc.).
b) Procedures to be followed when filling up the inventory forms.
c) Printed or digital record (or both – more advisable).
3. Evaluation of the type of photo storage recommended
(evaluated according to differences and intrinsic needs) and the area intended for storage/deposit.
Packaging materials (envelopes, boxes, albums; conservation related products and cleaning products, if necessary);
Learn more in the post Why use acid free paper for packaging and preserving old photos?
Essential monitoring instruments (taking in account if they are financially sustainable);
Space: shelves, cabinets, etc.;
4. Duplication program
(which may include aspects related to the exposure that we intend to give to the print or its respective duplicate);

5. Emergency response plan (optional)
Being optional, it is an important aspect in photo storage because in case of emergency situations it can save many photographic specimens.
Includes procedures such as what to do in case of water infiltration, insects/rodent infestation, mildew, fire, etc.
It lists the conservation and restoration materials and their suppliers and contacts for conservation professionals.
Get to know how to develop and maintain a preservation program for the photographic collections.
In the Conservation of Photography online course you will learn:
◌ Recognise and distinguish the concepts of preservation, conservation and restoration.
◌ Identify and recognise the structure of a photograph (within its different types).
◌ Identify and recognise the most commonly found types of photographs.
◌ Recognise the main factors of common deterioration of photography.
◌ Apply a program destined to control environment and pest infestations.
◌ Recognise the practice of handling procedures and identify the more suitable storage systems for each type of photograph.
◌ Develop and maintain a preservation program for the photographic collection, suited to the types of photographs to which it is destined.
Give the knowledge for photo storage in the adequate conditions for different types of collections.
Who should take this Online Course ?
The Conservation of Photography online course can serve publics of multiple backgrounds, from professionals who need an initial approach to the preventive conservation of photography, to those who wish to promote the longevity of their family photos and albums.
No access requirements.
Save 20% – Photos, documents and books conservation – 2 courses package
You may be interested in online courses with certificate