Discover 5 magnificent lions by Rosa Bonheur – a master of animal paintings in the 19th century.
Animal paintings
Painting animals is part of a tradition dating back to the 17th century when animal-specialized painters began contributing to portraits, landscapes, or history paintings of other artists.
Whether to compose a Natural History book or a shadow of a sheep in the background of a portrait, animal painting attracted various artists, with Rosa Bonheur being its supreme mistress.
Although painting animals had already been popular, the term animals painting was only coined in the 18th century by the naturalist John Berkenhout.
Artists who specialized in the art of portraying animals were called animals painters , and worked with other artists in two ways:
If the genre of painting was historical or mythological, they collaborated just adding the figures of animals.
If the beast (or pet) was the main theme, then other artists collaborated with them, producing background landscapes and any human company.
You might be insterested in the post - What are the most frequent themes in figurative painting?
Rosa Bonheur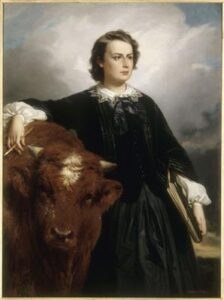 Rosa was born in 1822 in Bordeaux, and her family was full of artists. Rosa's father was a portrait painter and so were two of his brothers. In that sense, the girl's choice seemed obvious.
What was not expected, however, was that the artist chose animals as the main area of focus.
Rosa Bonheur produced a series of pictures in which all kinds of animals can be seen, from dogs to cows.
But in particular, it's the lions, these magnificent animals, that make the most beautiful part of her work.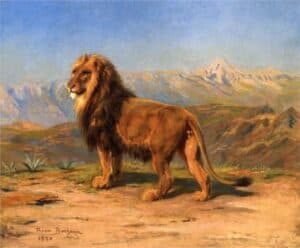 Lion in a Mountainous Landscape
Rosa Bonheur education
In Rosa's family girls were educated exactly in the same way as boys. The girl followed the practiced at the time path of learning art, beginning with copying other people's works and sketching life models.
But with time, when still very young, she became interested in horses (by the way, horses seem to be the most favorite of painters).
Later Rosa began to visit slaughterhouses and the Institute of Veterinary Medicine. She took part in animal dissections to be as realistic as possible in her paintings.
And it was not just that. Rosa had an unusual pet in her youth: she tended a sheep on the porch of her apartment!
Rosa's fame came in the late 1840s. She received an order from the French government and began to have her work exhibited frequently. In this way, the artist began to be known beyond France. She arrived in Sweden and had her works admired even by Queen Victoria herself. And more: in 1865, Rosa was awarded the medal of the National Order of the Legion of Honor by Empress Eugenia.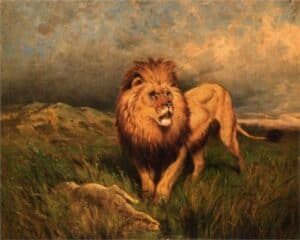 Lion and Prey (also known as The Kill) 1847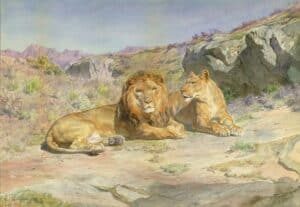 Royalty at Home 1885
Rosa Bonheur life
Her life was wild as her work, Rosa was independent and bold.
In her childhood, she was undisciplined and had some difficulty learning to write. Because she was not very well behaved, she was even expelled from school. Following this episode, her father took care of the girl's education.
She did not care much for the conventions of her day (or if she had to respect them, she made a point of showing her contempt for them). Her hair was always cut short and she smoked in public, two things that respectable women never did. She also wore men's clothes when she went out in public (imagine that she had received a special permit from the city hall to be able to dress like that because according to her, the tight dresses hindered her work).
At the age of 33, Rosa Bonheur bought a palace in Fontainebleau, and shared it with Nathalie Micas. The two were friends since the age of 14 and lived a beautiful romance that ended only with the death of Nathalie in 1889.
About Rosa, Nathalie once said: She protected me from the mud that was thrown at me, preventing me from becoming dirty.
Nathalie's death triggered a deep depression in the artist. A few years later, the artist Anna Elizabeth Klumpke asked to paint a portrait of Rosa, of whom she was a great admirer. The admiration became love and the two lived together until the death of Rosa.
Rosa had the courage and the daring to live as she wanted, even if it might have affected her career. She was able to live quietly on the income from her work, which was not easy for many artists at the time, and ran her father's art school. She was known for helping artists in difficulty.
Rosa Bonheur died in 1899 and her ashes were placed next to Nathalie's (Anna's were placed there later, too). Rosa's benefits for the arts, however, did not end with her death: one of the houses in which she worked in Thomery now houses a museum.
Oh, and one last thing: in Fontainebleau, the painter had several animals, including, in addition to deer and parrots, a pair of lions!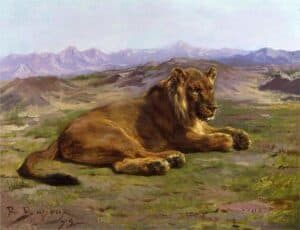 Couching Lion 1872
Learn more about art history