In this article we will see what is iconography in art and the importance of symbols in artworks.
Text: Yolanda Silva author of the online courses: Iconography and Analysing art.

Cover image: School of Athens, by Rafael (detail)
What is iconography in art – the symbols and icons
To understand what is iconography in art we have to reflect on what symbols and icons are.
From the beginning of Time, the use of symbolic systems has been naturally reflected in Mankind's daily life. Signs, symbols and icons of all kinds have served as one of the most effective forms of communication.
We just have to look around in our daily lives to find examples, such as traffic signs, colour systems for distributing tasks or allegories like Lady Justice, identifying a particular building as the Courthouse.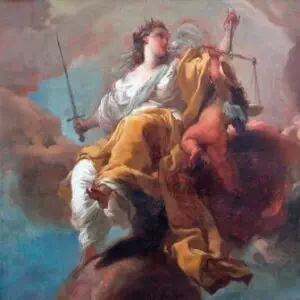 Symbols and icons can take on a different meaning according to the context of the object, its location, or the person analysing it, but most meanings are usually the same.
In an artistic context, the use of one or more symbols (which may be more or less ambiguous) also serves the purpose of transmitting a given message.
But, first of all, what is an icon?

The definition in the dictionary tells us the following:
1:  a usually pictorial representation (image)
2 [Late Greek eikōn, from Greek] :  a conventional religious image typically painted on a small wooden panel and used in the devotions of Eastern Christians
3:  an object of uncritical devotion (idol)
4:  emblem, symbol: «the house became an icon of 1960's residential architecture — Paul Goldberger»
5 a:  a sign (as a word or graphic symbol) whose form suggests its meaning;
5 b:  a graphic symbol on a computer display screen that represents an object (as a file) or function (as the command to delete)
 (In http://www.merriam-webster.com/dictionary/icon)
As a symbol, an icon represents or suggests something, or, in other words, it's what we use to convey our particular message, within the system of ideas in which we operate.
Laundry symbols are a good example. A certain icon will therefore replace the written message, passing it effectively through a pictorial representation.
what is iconography in art

Initially, when analyzing a work of art, iconography was had to be either «intended / implied», so to speak, or «interpretive».
 Intended or implied iconography
Refers to the attitude of the artist, the patron or the contemporary observer (to the work) before the function or meaning of the symbols or images present in said work of art.
Sometimes, the description of the intentionality of the representation can be found described in written works, such as iconographic treaties that provide the data that the artists must follow.
Such as the Treaty of picturis et imaginibus sacris, 1570, written by theologian Molanus Joannes, or in the artist or patron's letters and memoirs.
Other documents derived from the work, such as painting programs associated with the painting of several late-Baroque ceilings and contracts between artist and patron are also sources that may assist the iconographic reading.
This is the example of the Treaty of Giorgio Vasari, which describes the decorative scheme of the Palazzo Vecchio and its iconographic and decorative intentions.

interpretive iconography
However, sometimes the meaning of a work of art can only be read through methods linked to historiography itself.
So, we must deduce the information through philosophical, theological or literary currents contemporary to the masterpiece in question.
This is what we may call interpretive iconography, which nowadays we call Iconology, and that has become an area of study within Art History.
To learn more about art analysis and art history