Jackson Pollock – A man walks on his creation, a fragmentary and chaotic creation. But it is an elaborate, creative and almost romantic chaos. He's in love with his canvas. This man is Jackson Pollock .
By - Rute Ferreira
Jackson Pollock's paintings represent a great moment in abstract expressionism.
He's the face of this movement and the best portrait of the ardent passion that art can be cause of in a volatile spirit.
Pollock was an American artist (28 January 1912 – 11 August 1956).
The abstract expressionism would pass without Jackson Pollock , but it would never be the same.
In 1942, with the work Stenographic Figure, exhibited in the Spring Salon for Young Artists, Pollock caught the attention of the painter Mondrian:
"the most interesting work I've seen so far in America", he said,  and got a contract that allowed him to quit his job (Pollock worked in a museum) and dedicate himself only to artistic creation.
Peggy Guggenheim and the recognition of Jackson Pollock art
Contracted by Peggy Guggenheim to make a large artwork in her house, Pollock created Mural between 1943 and 1944.
The artist's painting forces the viewer to redirect gaze. It is an improvised work that captures well the almost volcanic force of this artist – fragmented lines, waves and smudges signal that the creation is, above all, rhythmic.
Mural, living up to its name, is a huge piece: 2,5m x 6m, and took one night to be composed.
In November 1943 he made his first solo exhibition, also provided by Peggy Guggenheim.
He exhibited, among others, the piece She-Wolf, a myth's allegory- of the Rome's foundation and the story of Romulus and Remus.
The director of MoMA, Alfred Barr, was impressed with the work and bought it (today his artworks cost millions of dollars, but at that time the painting was sold to Barr for $ 650.00).
Learn more about art history and art analysis
Online courses
Dripping, the extreme technique of abstract expressionism
In 1948 he began a series of drip-paintings. Jackson Pollock's paintings are recognized by the technique of dripping, the extreme technique of abstract expressionism.
In order to perform the drip-painting Pollock launched the paint directly into the canvas through holes in the can.
Chaotic character. Chaotic, but never random. There are no brushes in his painting.
For Pollock, the painting done on an easel, in a quiet and peaceful performance, no longer corresponded with the artistic ideal of the period. The artist commited his whole body to action, it is almost a performance event, but above all, it is a passionate event.
Pollock walked over his canvas and became, at that moment, part of it.
It was not long before Jackson Pollock became the face of abstract expressionism (especially thanks to Hans Namuth's photographs).
Only in 1950, he produced more than 50 works!
Unfortunately, the personal life of Pollock was complicated. The artist had problems with depression and drinking.
Despite being able to go through long periods of abstinence, he ended up returning to the path of alcoholism. So he suffered a car accident when he drunk. This ended his life and brilliant career, at the age of 44.
The work of the artist remains one of the most powerful in the history of art. Pollock elevated the abstract painting by making his technique an amplification of his own senses, movements and gestures.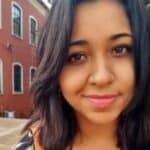 Rute Ferreira
I am an art teacher with a background in theater, art history and museology. I'm also specialized in Distance Education and I work in basic education. I write regularly on the Citaliarestauro.com blog and the Dailyartmagazine.com. I firmly believe that the history of art is the true history of humanity.