Cubism – A Conceptual Art
Learn what is the fourth dimension in cubism and why and why we can call cubism a conceptual art.
Contains an explanatory video.
Cubism is an artistic movement that emerged in the 20th century, in the plastic arts, having as its main founders Pablo Picasso and Georges Braque.
Cubism is seen as the aesthetic root of abstract art:
«For the painter, objects are very simply a multiplicity of colored plane shapes.» (Juan Gris)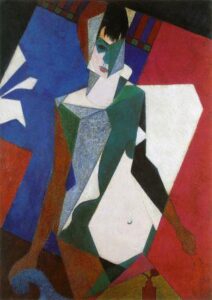 Woman in the Mirror, Jean Metzinger, 1916 (private collection).
The range of action of this movement is positioned between 1907 and 1914 and owes its creation to Georges Braque and Pablo Picasso.
Cubist artists defend a pure, cerebral and conceptual art through the reconstruction of natural forms according to logic and geometry, and rejecting the simple copy or representation of the visual and sensorial appearance of the object.
In his "Cahiers" de 1917-47, Braque stated:
«You shouldn't just want to copy things. We must penetrate them, become things ourselves. (…) There must be no preconceived ideas; every painting is a new adventure.» (Georges Braque)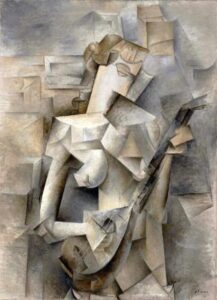 Fanny Tellier, Pablo Picasso, 1910 (MoMA, USA).
In fact, this artistic movement proposes a new representation based on the most recent discoveries of Physics (the theory of Relativity and the theory of the Fourth Dimension).

And Philosophy (the sociological concept that the Human Being does not move only in the three dimensions of physical space , but also in Time).
Perhaps for this reason, Cubist paintings appear as a coordinated representation of static moments, captured on the same canvas.
In addition to being influenced by the scientific discoveries of the time, the work of Cézanne was equally important for the definition of Cubism.
Cézanne saw painting as a logical and geometric reconstruction of Nature.
Another important influence was ethno-primitive art (especially African).
At the time when this movement emerged, France was colonizing Africa, so the media at the time was full of stories and objects considered "exotic".
The fourth dimension
Learn more about the avant garde movements in the online courses