With the courses about art history offered by Citaliarestauro.com you will learn to look at art with different eyes.
Art is one of the oldest manifestations of human creativity.
«THE WORK OF ART GIVES THE PUBLICLY TO KNOW ANOTHER THING, IT REVEALS TO US ANOTHER THING; IT IS ALLEGORY. 
(…) THE WORK  OF ART IS A SYMBOL."
Who should take a course about art history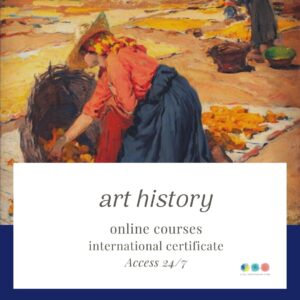 These courses about art history are aimed at professionals who are dedicated to activities related to the History and History of Art, Museology, Conservation and Restoration, Tourism professionals and anyone interested in the subject.
It is also an important element of support for students and teachers.
Learn
How to read, analyze and interpret an artistic work in its formal and symbolic aspects.
How to apply iconographic and symbolic analysis methods to artistic works.
Know the artistic manifestations over time and in various cultural spaces and contexts.
How courses about art history work
The online courses have an international certificate since citaliarestauro.com is a training entity certified by DGERT (European Union system).
Learn more about certification
The online courses in the area are always open and starting immediately.
Access to courses can be done 24 hours a day on any device.
Analysing Art
Learning Objectives 
Distinguishing concepts of interpretation and description when reading a work of art.
◌ Identifying and describing characters and scenarios in an objective and clear way.
◌ Distinguishing objective reading of subjective reading.
◌ Identifying and recognising the importance of literary and graphic sources for the interpretation of works of art anda art analysis .
◌ Identifying the necessary elements for the description and interpretation of a work of art, according to its nature (painting, sculpture or architecture).
African art – from rock art to modern era
Learning objectives – African art online course
During the course, you will learn about the history of African art , starting with rock art and those that are considered the first artistic manifestations of humanity until modern era and the influence of African art in European avant-garde artistic movements.
To know the manifestations of rock art and its importance for the history of humanity.
To know the great African civilizations, their artistic manifestations and their processes of cultural interaction.
To know the great changes generated by Christianity and Islam in Africa and their artistic manifestations.
Understand the impact of European empires in the modern era in Africa and the influence of African art on European artistic movements.
Gothic architecture
Learning objectives
In this course, we will explore Gothic architecture and its context.
We'll discover the style's key features and components, how they developed, and how they work to keep buildings standing.
We'll learn how the architecture fit into medieval religion and culture, and we'll identify the Gothic church's many meanings.
We'll also find out how Gothic spread from France and England to the rest of Europe, how Gothic was revived in the 19th century, and what has happened to Gothic buildings since they were created.
Treasures of architecture – from Ancient Egypt to Byzantium
Learning Objectives
At the end of this course about the great monuments of antiquity , participants will be able to recognise architectural styles, as well as the history, culture and art of the best architectural and touristic examples in the world, within each style analysed.
Following a chronological order, the course will begin with the historical, artistic and cultural explanation of the base style of construction, followed by the analysis of the monument, its history and architect.
This way the participant will be provided with the necessary contents to understand the building as well as its architectural surroundings.