Painting restoration – Restoration of a large painting on canvas
In this article see the solutions found for the restoration of an large painting on canvas.

It contains a video illustrating the various operations carried out.
In addition to the ethical and technical issues that always arise in any conservation and restoration work, it was necessary to consider very practical issues related to the movement and placement of this painting.
---
You may be interested in the article What is restoration and conservation?
---
Painting restoration | the issues that arose
The painting restoration on canvas always raises important ethical and technical issues.
The correct diagnosis, pathology survey and prior intervention report are always indispensable.
In addition, the planning and organization of the tasks to be performed must be thorough and the preparation of the means and materials for testing and intervention adequate.
---
And what do we say when we come across an altar canvas, installed on a lifting mechanism, more than five meters long?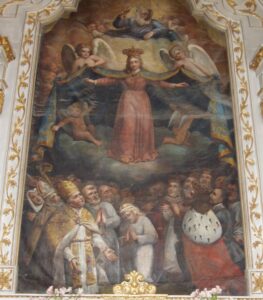 Altar canvas Misericórdia Church of Esposende
In this case the questions raised become even more numerous and the preparatory work more necessary.
In addition to the painting restoration , several aspects related to the size of the canvas have to be considered:
the space needed to carry out all conservation actions
he access to all points of the work
the materials to be chosen: for example, the relining was carried out with very light polyester fabric instead of linen fabric to avoid creating more weight in the work.
the suspension process.
painting restoration | the proposal for treatment
Based on the conditions described above (size and positioning of the canvas) and its state of conservation, the following treatment proposal was formulated.
1.Removal of the canvas from the altar.
2.Mechanical dust removal.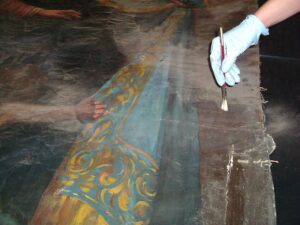 3.Removal of bands applied in previous interventions.
4.Prefixing with Primal B60 at 50% in water.
5.Application of Dammar varnish diluted 30% in White Spirit.
6.Hydrocarbon test.
7.Facing with surgical gauze and B.E.V.A. Gel 371.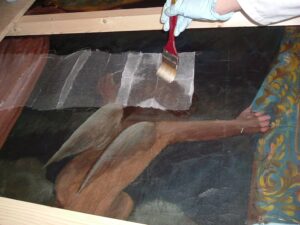 8.Preparation of the canvas for transportation.
9.Removal of patches and adhesives from the back side.
10.Mechanical cleaning of the reverse side .
11.Crease planning.
Turning the canvas to remove the facing.
13.Removing the facing.
14.Solubility tests according to Feller's method.
15.Chemical cleaning,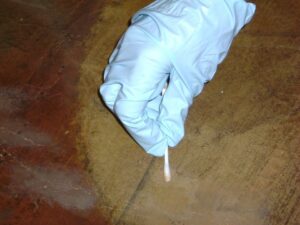 16.Application of 50% extra-fine touch-up varnish in White Spirit,
17.Linen patching with B.E.V.A. film and polyester.
18.Waterproofing and reinforcement of upper and lower bands with medium linen.
19.Relining with B.E.V.A. Cold gel and polyester.
You can watch these interventions in the following video.
Learn more about painting restoration and conservation in the online course Conservation and restoration of painting on canvas
The online course in conservation and restoration of paintings systematizes the methods and procedures of intervention, exemplified with case studies. An active method is used, illustrated with images and video tutorials of the various stages of intervention.
Course structure – Conservation and restoration of paintings on canvas
PART 1 – CONCEPTS AND PRINCIPLES OF CONSERVATION AND RESTORATION
LESSON 1 – Concepts and principles of conservation and restoration
LESSON 2 – PREVENTIVE CONSERVATION
PART 2 – BEFORE THE INTERVENTION WE NEED TO UNDERSTAND
LESSON 3 – UNDERSTANDING AND CHARACTERIZING A PAINTING
LESSON 4 – STRUCTURE OF A PAINTING – SUPPORT
LESSON 5 – STRUCTURE OF A PAINTING
PART 3 – DEGRADATION FACTORS AND PATHOLOGIES
LESSON 6 – FACTORS OF DEGRADATION
LESSON 7 – MOST FREQUENT PATHOLOGIES
LESSON 7.1. OBSERVATION OF PATHOLOGIES
PART 4 – METHODOLOGY OF INTERVENTION IN CONSERVATION AND RESTORATION OF PAINTINGS
LESSON 8 – CONSERVATION AND RESTORATION – METHODOLOGY OF INTERVENTION
LESSON 9 – PRE-FIXING, UNFRAME AND CONSOLIDATION
LESSON 10 – FACING
LESSON 11 – TREATMENT OF THE BACK
LESSON 12- REMOVAL OF FACING AND CLEANING
LESSON 12.1. – ALTERNATIVE CLEANING PRODUCTS
LESSON 13 – GAP FILLING AND REINTEGRATION
LESSON 14 – PROTECTION AND RE-STRETCHING
CASE STUDIES AND SUPPORTING MATERIAL
In painting restoration and conservation each case is different and needs to be carefully analyzed in order to take the most appropriate conservative options.
In this section you can look at different case studies and understand the associated issues.
There is also documentation for further study of the topics covered in the course.