Known as the world's greatest love story, the Taj Mahal tells the thrilling story of an everlasting passion.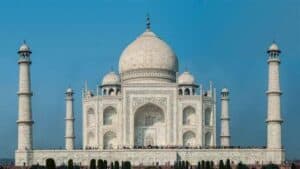 Familiar from many photographs and emblem of India, the Taj Mahal in Agra, is worth a detour on the journey of those arriving in the Indian capital.
It is one of the most expensive buildings in the world, a fusion between the highest point of Mongolian and Islamic architecture, surrounded by Persian gardens with fake water channels that reflect its shapes and gives us the illusion of being a floating stone.
By: Diana Ferreira, author of the online course Treasures of architecture
Taj Mahal – The building
The marble construction, with a resplendent whiteness, which contrasts with the green of the gardens and is reflected in the water of the tank and the river, has a square plan.
On each side there is a central entrance recessed, after a tudor arch, whose portico with rectangular frame exceeds the height of the flat roof where are five domes.
The central, bulky and larger, is double, rests on a raised drum and features a bronze finish with the lotus flower, where it reaches the height of 60 meters, from the platform.  Around it, marking the angles, are four octagonal pavilions with smaller domes.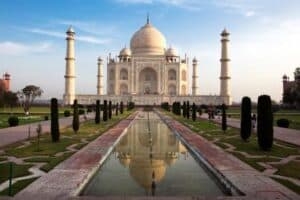 Respect for the Islamic religion and the need to maintain the whiteness of marble, dictates to the visitor the rule of taking off the shoes in order to travel through space and begin the visit.
Taj Mahal – The Legend
The elegance and beauty of the Taj Mahal or "crown of the palace" are at the service of the tomb of the Persian princess Arjumand Banu Baygam (1593-1631), also known as Mumtaz Mahal "the chosen one of the palace", the second of several wives of the fifth Mughal emperor Shah Jahan (1628-1658), who commissioned the building.
It is said that they met when they were only 15 years old and it was love at first sight, marrying 5 years later.
Mumtaz was the favorite wife, best friend and counselor in her husband's political life. During the 19 years of marriage, she gave him eight sons and six daughters, and it was in 1631 at the age of 39, when she accompanied her husband on a military expedition that her fourteenth son was born.
After the daughter's birth, she realized that she was dying and asked her husband to build a monument of such perfection that no one could doubt the strength of his love. In memory of his favorite wife, the emperor had a magnificent mausoleum built.
It is said that the black hair of the Mongol emperor became immediately gray when the Persian Mumtaz Mahal passed away, and that he decreed two years of national mourning in which parties were banned, listening to music, wearing jewelry, colored clothing and perfume.
Want to learn more about history of architecture?