In this article get to know Alfred Eisenstaedt , the photographer of this kiss in Times Square that became a symbol of the end of WWII.
Because after all, even the worst nightmares come to an end.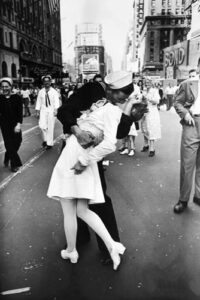 Alfred Eisenstaedt | awakening to photography
One of the most famous photographers of the 20th century, having recorded for posterity several legends from the world of politics and cinema, Alfred Eisenstaedt was born in former Prussia, but spent most of his childhood and youth in Germany.
His interest in photography began at the age of 14, when he was offered his first camera – an Eastman Kodak No. 3.
Shortly thereafter, at the age of 17, he was recruited for the First World War, having to put his fascination for this art paused. Returning from the war with serious injuries, after a grenade explosion affected both his legs, he returned to devoting himself to photography.
In 1922, he got a job selling buttons and belts, which allowed him to finance his investment in photographic equipment. At this point, he used his own bathroom as a darkroom to develop his photographs.
Alfred Eisenstaedt | photography as a profession
The first photograph that he managed to sell – "Der Weit Spiegel" – earned him 12 dollars, which at the time was quite attractive, which made him think about pursuing a career in photography. "Der Weit Spiegel" illustrated his wife was playing tennis, during the couple's vacation in Czechoslovakia.
From there, he decided to abandon his previous sales activity and devote himself entirely to photography. In 1931, he worked as a freelancer for the Pacific and Atlantic Press (which would later change its name to the Associated Press) and, in 1933, he was sent to Italy to photograph the encounter between Hitler and Mussolini. At this time, Eisenstaedt was working with a revolutionary 35mm Leica, which came out on the market a few years earlier.
Alfred Eisenstaedt | the Life magazine
With Hitler's rise to power, he emigrated to the US and settled in New York, where he became part of a project that would become the iconic Life magazine.
In 1942, he became a naturalized American and traveled around the world to document the effects of World War II. In Japan, he showed the effects of the atomic bomb, and in Korea, he recorded the presence of US troops. In Europe, he photographed the misery and poverty experienced in Italy and, in England, he portrayed Winston Churchill.
Eisenstaedt's career was marked by numerous portraits for Life magazine, in which he represented prominent celebrities and personalities in society, such as Marlene Dietrich, Marilyn Monroe, JFK and Ernest Hemingway.
You can see 13 unforgettable photos by Alfred Eisenstaedt for Life on this link to Google Arts & Culture.
Alfred Eisenstaedt | the kiss in times square
However, one of his most famous photographs would come to be "The Kiss in Times Square". Published in 1945, this "Kiss" represents the moment when an American sailor plucks a kiss from a young nurse, in Times Square, in New York, during the announcement of the victory and end of the conflict against Japan (during the Second World War).
The identity of the actors is controversial, but the woman is believed to be Edith Shain, who died in 2010, and the sailor to be ex-policeman Carl Muscarello, who died in 2014.
In 2005, on August 11, exactly 60 years after the moment immortalized by Eisenstaedt, a statue that replicates the famous "Kiss" was installed in the same New York avenue.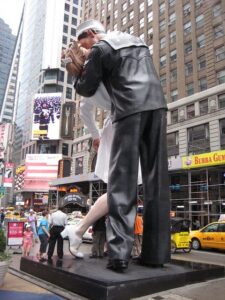 At the age of 81, Eisenstaedt returned to Germany, where he participated in an exhibition about life in Germany in the 1930s.
Awarded several times, this "Master of Photography" (title awarded by the International Center of Photography), continued to work until his death, in 1995.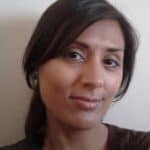 Yolanda Silva
Graduated in Art History (Faculdade de Letras of the University of Porto). Her career led her to work at the Municipal Historical Archive of Porto and the Museum of ISEP, with inventory and conservation of Photographic collections. She wandered around the world of antiquaries and tourism, until becoming a professional trainer/tutor, dedicating herself to the areas of Art History, Iconography and Conservation of Photography. She currently works at the Department of Culture of Porto, within the scope of Heritage. Has several written works / published in the areas of Art History, Iconography and Conservation.
Get to know the online courses