Work of Conservation and Restoration of Azulejo (ceramic tiles)
Here are some images of a conservation and restoration work.
Intervention carried out in situ. Fonte do Cano, Vinhais, Trás-os-Montes, Portugal.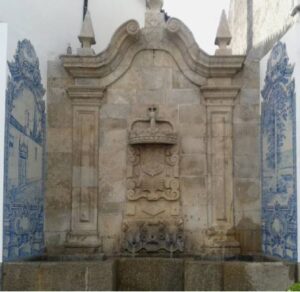 Baroque fountain from XVIII century with azulejo panels from XX century (1930) Fábrica de Sant'Anna.
On the side walls are azulejo (tile) panels from the XX century (1930s) of national manufacture, probably Fábrica de Sant'Anna, according to the inscription.
These represent, on one side, the Town Pillory and, on the other side, the extinct Chapel of Mercy. It was considered to have prophylactic and curative properties.
The Azulejo Conservation and Restoration works were carried out in situ.
They had, therefore, the involvement and systematic monitoring of the population of the Municipality.
Initial state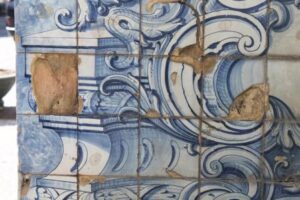 Dirtiness, inks, lack of glaze, biological colonization.
1 – Diagnosis of pathologies
Before the start of the Conservation and Restoration of Azulejo intervention, it presented various types of dirt:
Accumulation of dust, traces of paint, various types of adhesives, remains of mortar on the surface, presence of fractures and cracks, disintegration of the tiles, and biodegradation.

Diagram of pathologies
Restoration intervention
The intervention of Conservation and Restoration of the azulejo in Fonte do Cano took into consideration the principles of minimal intervention.
However, it sought to return the aesthetic reading and functionality to the work.
Being an ex libris of the locality there was a close monitoring of the population and simple but systematic information of the operations carried out.
2 – Cleaning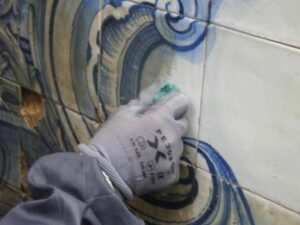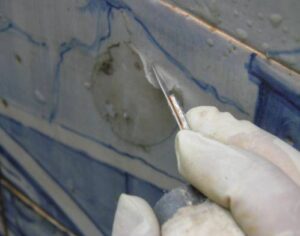 Treatment of biological colonization.
Cleaning of the glaze.
Removal of strange elements.
3 – Volumetric reintegration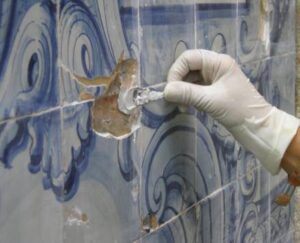 Fill in gaps with mortar
4 – Leveling and polishing of mortar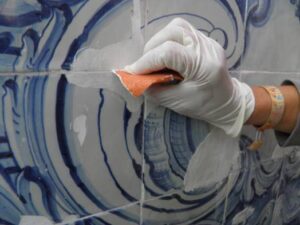 5 – Chromatic reintegration and final protection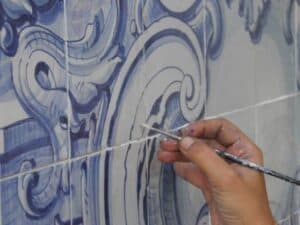 Geographical environment
In this intervention we had to consider the environment of the panels.
They are located outside, integrated in a fountain and therefore with an increased presence of humidity.
It should also be noted that the area where the fountain is located (Trás-os-Montes, Portugal) has particular climatic conditions: snow and ice in winter and very hot in summer.
This environment favored the appearance of biological colonization. Particular attention to curative and preventive treatment of biological colonization was required.
Discover the Citaliarestauro.com online courses about Conservation and Restoration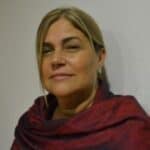 Fátima Muralha
Graduated in History – Art History from the Universidade Nova of Lisbon. Post-Graduate in Management and Promotion of Heritage by the UAL. Specialised in Management of Cultural Projects. Various training courses and a specialisation course regarding Promoting Heritage, Conservation & Restoration, Museum studies and Vocational Training. Coordinator in multiple projects linked to Historical and Artistic Heritage, educational and vocational training projects in various entities. Author of several publications and communications. Creator and coordinator of the development of virtual content of the project: History | Art | Culture.