Today we propose to get to know Frida Kahlo paintings through some virtual visits and exhibitions. Today she is considered one of the most important artists in the history of art, as her works bear witness to a female voice and her personal life is as fascinating as her work.
Through the virtual visit to Casa Azul – Museo Frida Kahlo and the exhibition Faces of Frida by Google Arts & Culture we can get to know Frida Kahlo paintigs in much of their complexity.
Still, and through the text by Rute Ferreira, we will look at the reflection of Frida's dramatic life in Frida Kahlo paintings , who said:
"I paint my reality"
Frida Kahlo paintings | her biography
Frida Kahlo was born on July 6, 1907, in Coyoacán, México.
---
Frida Kahlo paintings | the beginning
The artist's life was dramatic and controversial. Magdalena Carmen Frida Kahlo y Calderón was born on July 6, 1907 in Coyoacán, Mexico.
When she was six years old she contracted polio, which made her right leg shorter and thinner than the left.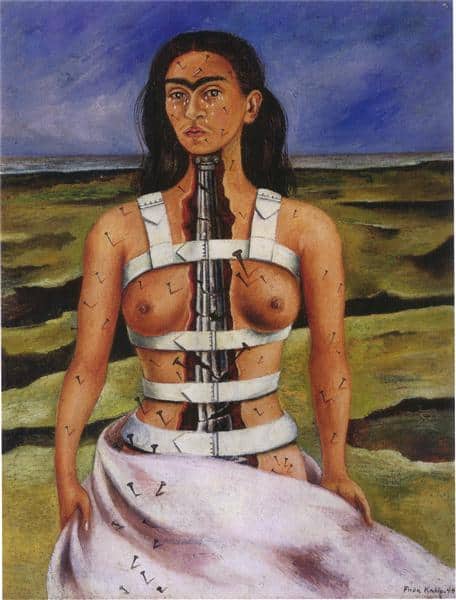 The pain in Frida Kahlo paintings
The picture is painful. Frida is half-naked, wearing a plaster vest. In addition to nails, her body has a central opening, where the title of the painting can be understood. A completely fractured Ionian column on the verge of collapse replaces the spine. 
Although facing the viewer, the woman shows a lost look. She is there, but she is not.
The scenery is also lonely, desert and distressed. She is alone and looks painfully forward. Her face is firm, even with the traces of suffering.
The "style" in Frida Kahlo paintings
According to André Breton, Frida's work fits Surrealism, but the artist herself questioned the framing, because if the surrealist work comes from a dream, it would not be the case with her work.
For the painter, her works represented the reality in which she lived, such as the successive abortions she suffered, for example.
Once again, personal tragedy is confused with her art. The accident she suffered not only affected her spine, but also her uterus and she was unable to have children.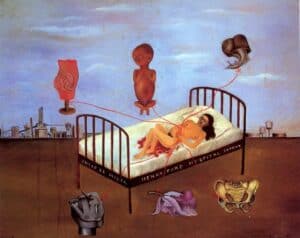 Hospital Henry Ford
You can see the virtual exhibition related to this work "Hospital Henry Ford" in the link.
Frida and Diego Rivera
In 1928 she joined the Mexican Communist Party (PCM) and was introduced to a circle of political activists and artists, including the painter Diego Rivera. She married twice, with him.  They had a troubled and aggressive relationship and separated several times.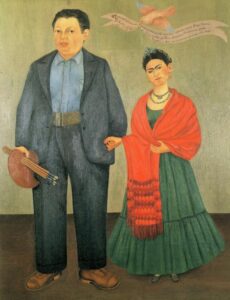 Frida and Diego Rivera
Get to know Frida's relationship with politics in this article.
Frida Kahlo paintings | the end
Frida was found dead at home on July 13, 1954.  Although the cause of the death was pneumonia, the amount of medicine she took and her previous suicide attempts leave until now some doubts about her death.
---
Frida did not express herself only through painting. Writing reveals a lot about this artist who undoubtedly marked the history of art in the XX century.
Get to know some pages of Frida Kahlo diary.
---
Learn about art history with the online courses