«We want to sing the love of danger, the habit of energy and rashness». 
In 1909, the Parisian newspaper Le Figaro published the First Futurist Manifesto, by Filippo Tommaso Marinetti, a text that would become the guiding line of the movement.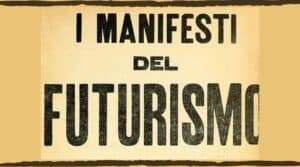 Cover image: Cover of the Manifesto of the futurist painters. 
The Italian writer and poet organized several conferences in which he presented his ideas, conquering militants not only in Italy – where the movement is better known; but also in Russia, England and throughout all Europe.
Get to know the futurist manifesto and its repercussions in this post by Yolanda Silva.
The Futurist Manifesto
Marinetti proposed a new poetics of combat to any form linked to the tradition, doing the exaltation of Industrial

Civilization – with all that it entailed:
«A racing automobile with its bonnet adorned with great tubes like serpents with explosive breath … a roaring motor car which seems to run on machine-gun fire, is more beautiful than the Victory of  Samothrace.» 
(Marinetti)
Click to read Futurist manifesto Italian and English
The futurist art
In 1910, the Manifesto of the Futurist Painters was published by the painters Umberto Boccioni, Carlo Carrà, Gino Severini, Giacomo Balla and Luigi Russolo.
In this mnifesto, they also propose to fight against the artistic tradition, and even against Cubism itself, making the apology of the machine, speed, light and dynamic sensation.
We can say that the pretensions of Italian futurism are summarized in the following aspects:
The liberation and exaltation of energies;
The absolutely passionate reflection of modern life;
The exaltation of the Present, the speed and the mechanical forms produced by Human Civilization;
The expression of simultaneous soul states in a work of art.
«The gesture we want to reproduce […] will no longer be a certain moment of the universal dynamics. It will be […] the very dynamic sensation[…].» 
(Manifesto of the Futurist Painters)
Futurism is built on the premise of a sense of dynamism, daring and revolt.
It is a movement of active rebellion, which sought the affirmation of the energy of Modernity.
So much that they defended the destruction of the Museums, as repositories of antiquity that repulsed them!
We can say that, in terms of passion, they approach the Expressionists, but visually they are more similar to the Cubists.
However they vigorously combat Cubism, displeased by the visual statism of its forms.
It is for this reason that they resort to themes involving speed and dynamism, expressing their constant eagerness for change and progress.
Thus, when we talk about futuristic art, reference is made to three key elements that characterize its plastic:
---
Learn more about history and art history