Want to take a look to an history online course by Citaliarestauro.com?
Today we will show you 2 important ancient egyptian personalities: Akhenaton and Cleopatra.
A very small snippet of the history online course Ancient Egypt – culture, beliefs and art.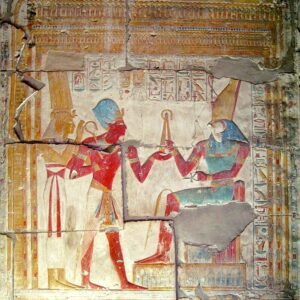 First, what is an history online course ?
IN AN HISTORY ONLINE COURSE GET TO KNOW DIFFERENT APPROACHES AND METHODS.
An history online course is suitable for audiences of various natures, mainly professionals in the areas of History and Heritage, who want to know the themes better or who are looking for materials to support their study.
An history online course is also open to students of various educational levels or those who are curious who wish to discover and even develop personal projects within these areas.
The courses are important tools for teachers and students who wish to delve deeper into the various topics.
In an history online course particular emphasis is given to methodologies for analysis and development of research work.
An history online course , in addition to the subjects, includes clues and indications for deepening the topics covered. This opens up new research perspectives.
2 important ancient egyptian personalities: Akhenaton and Cleopatra
We hope you enjoy this sneak peek to the online course Ancient Egypt – culture, beliefs and art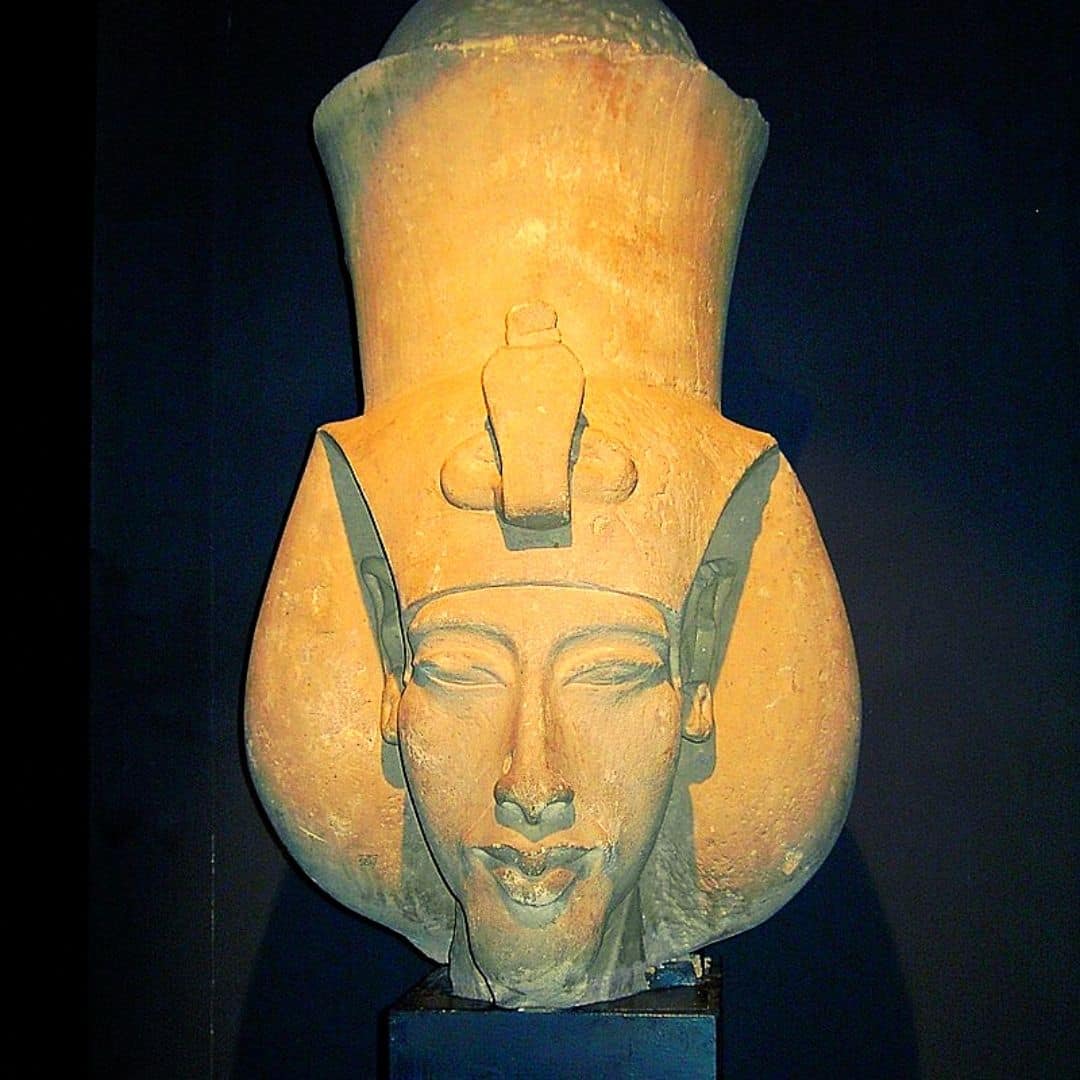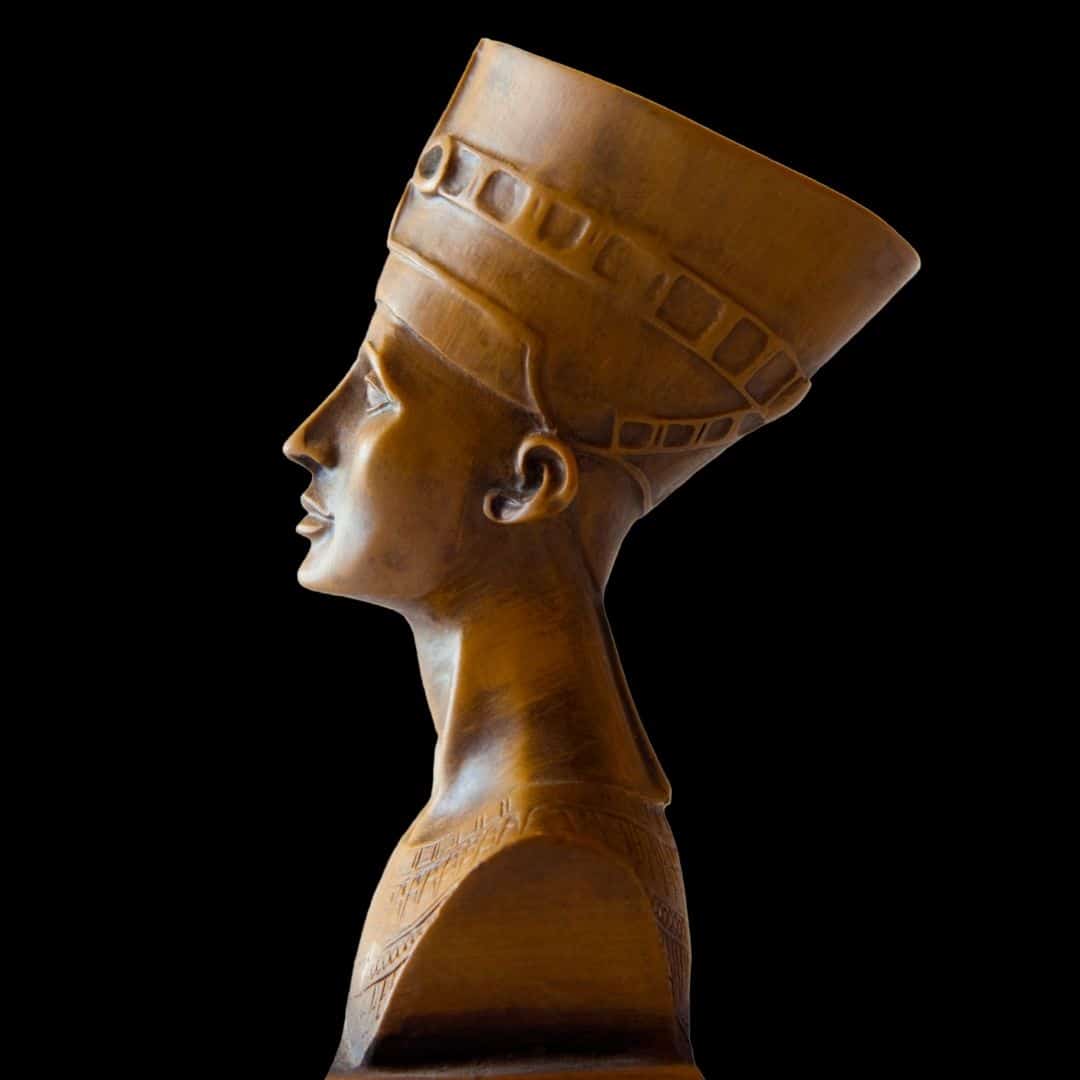 Berlin Cleopatra, Roman bust of Cleopatra wearing a diadem, c. 1st century BC (time of her visits to Rome in 46–44 BC). Berlin Museum

https://pt.wikipedia.org/wiki/Cle%C3%B3patra#/media/Ficheiro:Kleopatra-VII.-Altes-Museum-Berlin1.jpg
Cleopatra was the last ruler of the Ptolemaic Kingdom of Egypt (she was part of a dynasty of Macedonian rulers founded by Ptolemy). During her lifetime, Cleopatra became a legend because of her luxurious daily life, her love affairs and the conditions of her death.
No other Egyptian Queen has fascinated her contemporaries and later generations as much as Cleopatra.

Several writers, musicians, painters and filmmakers have immortalized her and magnified the legend of this woman described as beautiful, sensual, ambitious, astute and cruel.
She seduced two great Roman leaders, Julius Caesar and Mark Antony, and always kept her goal of safeguarding Egypt's independence and preserving her strong desire for power.
Cleopatra VII was born in Egypt in 69 B.C.; she was the daughter of King Ptolemy XII, in a very unstable time, when Egypt, despite being independent, became a protectorate of Rome.
After the death of the monarch, the young woman, the eldest daughter of the four remaining brothers, succeeded her father and married her brother Ptolemy XIII (eight years younger), fulfilling the tradition and the paternal testamentary will.
She reigned from 51 to 30 B.C., a period marked by her thirst for power reflected in unscrupulous and cruel political games that ended in alliances.
The marriage started a power struggle between the two spouse brothers, until the king was defeated and killed by Julius Caesar's men, with whom the queen had an affair. Cleopatra remarries, this time with the other brother, Ptolemy XIV, younger ten years.
To achieve her purposes, because she soon realized that to rule alone she would have to rely on one of the powerful men of Rome, she manages to seduce Julius Caesar and give him a son. But the Roman is murdered on March 15, 44 B.C., as he prepares to enter a Senate session, and leaves the succession to his nephew Octavian (who later became Emperor Augustus), despite acknowledging the bastard Caesarion.
Continuing with her political games of power Cleopatra poisons her husband and seduces Mark Antony, the Roman leader, of whom she has three children.
In the year 31 B.C., in a naval battle at Actium, Mark Antony was defeated by Octavian and committed suicide. To avoid becoming a prisoner and being part of the exhibition at Octavian's triumphal march in Rome, Cleopatra also committed suicide days later. In her place were Mark Antony's three children: Cleopatra Selene, Alexander Helios and Ptolemy Philadelphos.
It is said that Cleopatra took her own life with an asp that came to her hidden in a basket with figs, however, and although two snake bites were found on her arm, there was no trace of poison on her body.
CLICK THE IMAGE TO WATCH THE MINI WEBSITE ABOUT CLEOPATRA
AKHENATON'S REPRESENTATION WITH HIS WIFE AND CHILDREN

http://museuegipcioerosacruz.org.br/akhenaton-o-filho-de-aton/
Egyptian civilization developed an art that represented the artist's dependence on a theocratic political power – a regime of a country where power, considered as an emanation of divinity, is exerted by priests.
The artisans had no freedom of creation, being limited to the rules of the king and the priests.
For this reason, the invention and transformation capacities, associated to the artistic creation, have been hindered, reinforcing at the same time the permanent character of Egyptian art throughout thirty centuries, the most constant in the History of World Art.
In the North of Egyptian territory was the Nile Delta, and then the sea, but since the Egyptians were not sailors, the sea remained unexplored.
In the South, there were the barbarian people, but as the Egyptians were not a nation of warriors, they left the barbarians in peace.
Thus, new ideas were hardly introduced into the territory.
Centuries after centuries, Egyptian civilization ran like the Nile, "teeming with life like an anthill, surrendered to the inertia of its own rhythm, extraordinarily efficient but absolutely conservative" (Eric Newton).
Akhenaten
During the New Kingdom, when Amenhotep III dies, he is succeeded by his son Amenhotep IV ("Amun is satisfied"), later known as Akhenaton or Akhenaten ("Effective for the Aten").
This Pharaoh reigned for 17 years, and the first years were peaceful.
The problems arose when Akhenaten introduced Atenism, worship centered on the god Aten, prohibiting the worship of other gods and enforcing monotheism.
It is clear that it was a very controversial decision. With the help of the army, he ordered them to erase Amun's name from all monuments and demanded the closure of the temples of the other deities.
Artistic and religious changes were implemented, always with the support of his wife Nefertiti.
Bust of Nefertiti, Neues Museum, Berlin
The Pharaoh ordered the construction of a temple dedicated to the god, to the East of Karnak, with elongated sculptures of the pharaoh, freed from the artistic canons.
For a brief period, in the artistic field, the idea that people could only be represented as young and beautiful was abandoned.
He wanted truth, naturalism and sincerity. The Pharaoh wanted to be portrayed with all his physical flaws, which are registered with such cruelty that they remind us of humorous caricatures.
Sculpture and painting have thus acquired a new spirit. At the same time, he also demanded to be represented in the common acts of life – kissing his wife Nefertiti, playing with his daughters or taking their meals.
After his death, elegance, delicacy, precision, elongated faces and a certain melancholy remained.
It was a brief phase in Egyptian History, as with his successor they returned to the old conventions. Art has become monumental again, strict and perfect, as in all previous centuries.
With Akhenaten's death, the throne was handed over to his only male son, Tutankhatun (who later changed his name to Tutankhamun "The Living Image of Amun"), whose mother was probably his aunt.
As a reprisal for the monotheistic pharaoh, those who succeeded him erased his memory from Egypt, destroyed the buildings dedicated to Aten, as well as the city of Akhetaten (today known as Amarna), which quickly fell into oblivion.