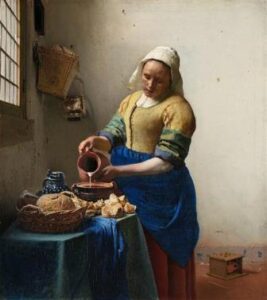 Vermeer was a painter and negotiator of art whose very little is known about his life but who in his work left such a clear signature of technical enthusiasm, composition analysis, meticulousness and pictorial construction.
---
Text : Marina Barros Cabral
Cover image:  Vermeer, Johannes: The Milkmaid, 1658. Oil on canvas. Rijksmuseum, Amsterdan- Netherlands
Source: https://www.wikiart.org/pt/johannes-vermeer/a-leiteira-1660
---
Vermeer and the intense beauty of daily life
"Figuratively realizes space, starting from the concept of space: it is only when the concept disappears, dissolving itself in the objects, that it is possible to be said that space exists in the picture – no longer as an abstract concept, but as a lived reality. "
"Part of the concept of space, or the unitary conception of the real, to deduce the knowledge of particular things." (Argan, 1992. Page 504)
Starting with this quotation from Giulio Argan about Morandi, aligning him with Vermeer and opposing both Mondrian and Paolo Uccelo, we see a very accurate construction of who was Johannes Vermeer and his art.
A painter and negotiator of art whose very little is known about his life but who in his work left such a clear signature of technical enthusiasm, composition analysis, meticulousness and pictorial construction.
The artist
Johannes Vermeer was born in Delft, where he is believed to have lived all his life until his premature death at age 43, insolvent and depressed.
He was a meticulous, slow and precise worker. He painted few pictures, of these only 35 canvases attributed to the artist have survived to this day.
His work is part of the Golden Age of Dutch painting, along with Rembrandt, Frans Hals, Judith Leyster, Jacob van Ruisdael, Willem Heda, Jan Steen.
The latter with whom Vermeer shared the theme of everyday life, also known as genre painting, but unlike him he did not intend to produce a narrative.
His work as a still life, but assembled with human beings, contains isolated figures from an everyday context, usually women, occupied with household chores.
Vermeer's world seems to have a device that pauses scenes of life and capture them for eternity, everything is meticulously constructed, although the observer of the works feels the lightness of the stolen moment, just a flash of seventeenth-century domestic life, a blink of eyes, the placidness of a time that is suspended, the placidness of infinite time.
His intensely populated day-to-day life, he had 11 surviving children with his wife, as well as maids and the mother-in-law who lived with them. Makes us think about how paradoxical his work theme and his daily life were. Had his noisy domestic reality been the reason for his idealizing such peaceful visual compositions?
Given such intensity in portraying something ordinary as everyday life, we see that above the perspective of the scenes on his paintings, we have concomitantly a mosaic of colors, colored surfaces.
Geometric shapes, predominantly rectangles. In the technical strategy of Chiaroscuro he gave his objects the high contrast.
Finally, we can see that there is no emptiness, all spaces, inhabited by objects or not, have texture, color, form. Mimicking the real world, there is no empty space, no lines, nothing is compartmentalized or contained, but everything is full of volume and shades of shadow and light.
Learn how to how to analyze works of art in the online course Analysing Art.
His most emblematic work: Girl with pearl earring
The work is signed, but not dated, believed to have been produced in 1665 in Delft, The Netherlands. Its dimensions are 44.5 cm high by 39 cm wide, relatively small compared to its international fame.
The Girl with a Pearl Earring is a striking painting. It portrays a scene in an indoor environment, a girl in exotic clothes on a dark background.
The girl is wearing an extraordinarily large pearl earring and the material and colors of her robes appear to be precious.
Read the post about Vermeer's painting "Girl with Pearl Earring".
Conclusion
The intense beauty of Vermeer's works lies in the precise and laborious structure of his reproductions, miraculously the artist never gives them an elaborate or harsh appearance.
As in photography, the paintings look like snapshots, unexpected shots of everyday life. Just as a photographer uses editing tools to give effects of lightness and softness, the author of the " Mona Lisa of the North" simultaneously achieves these effects without losing accuracy, solidity and density in his pictorial constructions.
It makes us see the serene charm of a simple scene with new vigor, being possible to have an idea of ​​the artist's feelings when observing the flood of light coming from the window, to bathe each color, texture and shape.
Learn more about art history
Bibliographic references
ARGAN, Giulio Carlo. Arte Moderna. Tradução Denise Bottmann e Federico Carotti – São Paulo: Companhia das Letras, 1992
GOMBRICH, E. H. A História da Arte. Tradução Álvaro Cabral – Rio de Janeiro: Zahar Editores, 1979
MONTIAS, John Michael. Vermeer and his milieu: a web of social history. Princeton: Princeton University Press, 1996
JANSON, H. W. Iniciação à história da arte. Tradução Jefferson Luiz Camargo – São Paulo: Editora Martins Fontes, 2009
---