Activities report – e learning 2021
We present the balance of e learning activities and complementary activities for the year 2021.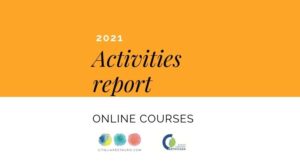 The year 2021 was a year of profound changes and great challenges for Citaliarestauro.com.
The biggest challenge this year was carrying out the project that we had already planned for 2020 and that we postponed due to the circumstances imposed by the pandemic:
the reformulation of the website from a technical, design and navigability point of view;
the reformulation of the e-learning platforms, increasing the fluidity in the learning of the contents and the ease of access to them;
updating content not only in terms of formats but also of information (particularly in courses related to heritage, museology, conservation and tourism, areas in which several redefinitions have taken place at an international level).
​
Although this was a task that required great effort on the part of our entire team, we continued to create new content in different formats: online courses, e-books, articles on our blog; videos and tutorials.
We therefore present a summary of what we accomplished in 2021 and the projects for 2022.
Thank you very much for joining us on this project!
E learning courses certification
Certificate – certified training institution
We are a training entity certified by DGERT (Ministry of Labor, Solidarity and Social Security – Portugal) – Training entity certificate nº 1800/2015.
What is a certified training institution?
This means that:
our certificates are valid for all legal purposes and skills qualification
our certificates are valid internationally as they are complying with the certification rules of the European Union
strict rules and principles in educational and organizational terms are respected.
all regulations under legal and fiscal point of view are respected, as well as those concerning the payments.
that courses are followed by quality management processes and are subject of continuous assessment.
You can consult the data of certified training entity