Get to know the Ernst Kirchner artwork Artistin Marcella.
Ernst Kirchner
Ernst Kirchner was one of the founders of the group of Expressionist artists Die Brücke (Bridge) together with Erich Heckel, Otto Müller, Max Pechstein e Karl Schmidt-Rottluff.
The expressionism
Expressionism refers to a set of artistic tendencies that took on different names and that lasted until after World War II. However, the 'first' Expressionism dates from about 1905 to 1914.
Expressionism was divided into two groups:
Die Brücke (The Bridge), born in Dresden and with an estimated period of activity between 1905 and 1913.
Der Blaue Reiter (The Blue Rider), based in Munich and whose production developed approximately between 1910 and 1914.
The Bridge was a movement in which the personage emphasized in relation to the scene.
The thematic  is centered around the social life (mainly incident in the bourgeois life), We can find mostly portraits and self portraits.
The intention of the artists of Die Brucke was to reveal the inner truth: to completely strip the human soul, even if it were shocking, uncomfortable or an affront.
Ernst Kirchner artwork – Artistin – Marcella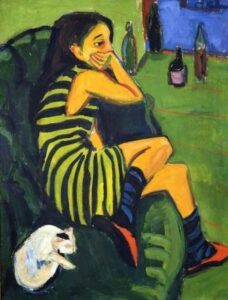 Artistin – Marcella. This Ernst  Kirchner artwork was made in 1910 and is currently in the Brücke Museum, Berlin (Germany)
The set obeys an upward diagonal from the lower left corner to the upper right.
The rhythm of the composition is essentially marked by soft, predominantly green color fields, bounded by marked contours.
The point of view from which he created the set was not an occasional one. The painter looked for an unusual perspective that transports the observer to a position superior to the model (positioned almost obliquely), simulating proximity, but at the same time giving an impression of distance.