"An oral history interview is something quite out of the ordinary because you are creating a historical document in those moments that you're sitting together. No paper documents exist to create the world that we've now created through these narratives."
Dra. Martha Norkunas
(University of Middle Tennessee – MTSU, Oral History: http://w2.mtsu.edu/history/history_faculty_directory/Norkunas.php)
---
Cover image: Tom Hale interviewing the griot Ayouba Tessa (1981, photograph by Thomas A. Hale).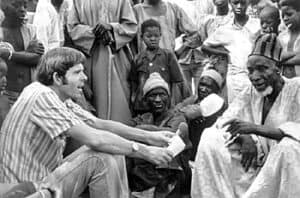 http://news.psu.edu/story/140694/2002/05/01/research/keepers-history
Text: Yolanda Silva
---
How to do an oral history interview ?
oral history interview conducted by historian to an American veteran of the Korean War.
http://www2.le.ac.uk/departments/history/outreach/besh/oral/intro

The basis of the interview starts from the notes resulting from the research process. In these notes the historian creates a list of topics, keywords and phrases that represent the information he/she seeks. Writing specific questions may not result in the expected response, compromising the follow-up questions and imposing a strict routine in what is intended to be a flexible and open exchange of ideas.
A list of topics is an excellent support document, but it is only a guide, very much like a map, which we use to direct the narrator's attention towards the issues of more interest to the project. Questions should be formulated around keywords or phrases collected in order to encourage the narrator to remember the Past and thus tell us a story in response.
If, perchance, the narrator wants to know in advance what we want to ask, we can discuss lightly which subjects we intend to reflect on, giving up a list of topics that may help stimulate the memory of the narrator and gain their trust.
When the interviewee provides information that is not on the list of topics previously created, but that may be of interest to the investigation, the historian should take note and ask the questions considered relevant at the time it is mentioned. Remember that you can always go back to the topics on your script.
Right and wrong in an oral history interview
Each oral history interview is a unique exchange of ideas. Each interviewee is also a single individual.  So it is always beneficial to allow each individual's memory pool take its own course, even if it means you have to momentarily take a small detour from the initial script you had planned.
Right
R Research the topic you are exploring in Oral History files.

R Talk to the librarian that works in the archives and start working.

R Treat the interviewee with respect, by being punctual and well-prepared.

 

R Prepare a flexible list of questions, with parallel information that might enrich the interview.

R Talk less; listen more.

R Take detailed notes throughout the interview.

R Transcribe the interviews.

R Create an index organising the interviews, with detailed notes on the person and date, so to create a reference for a future event.

Wrong
W Do not begin an Oral History project without previous research.

W Do not show up to an interview unprepared.

W Do not just limit yourself to the questions you prepared; talk, have a conversation.

W Do not interrupt the interviewee's silences, while he/she stops to think.

W Do not explain what was said to you if it isn't necessary. There is a reason why the interviewee expressed himself/herself that way.
In order to ensure that you are complying with all the tasks required to fulfil the project, you can better organise your work by listing everything you must do and, from that same list of tasks, create a control form. This way you can keep track of what you have already completed and what still needs to be done.
Formulating questions in an oral history interview
---
Interviews by the Fernhurst Society, United Kingdom
---
Oral history – the interview and the project
Online course – Certificate – Access 24/7 for unlimited time