Portraits of Marilyn Monroe and other celebrities, strong colors, silkscreen and comic books, collages… Do you recognize it?
We are talking about the pop art movement, which made the supposed boundaries between mass culture and high culture much less defined.
Andy Warhol (1928-1987) claimed to have learned to look at "commercial art as real art and real art as commercial art.
In this way he summed up the spirit of the pop art movement that first emerged in London, although it became better known for its exponents in the United States.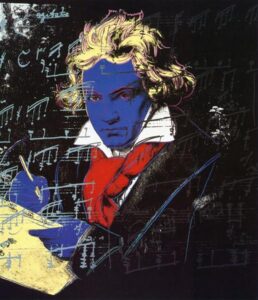 Andy Warhol, Beethoven, 1987
How did the pop art movement started ?
In 1956, Richard Hamilton (1922-2011) exhibited a painting called Just what is it that makes today's homes so different, so appealing? in the Independent Group, in London.
Using the technique of collage, Hamilton presented a room, and in the center, a bodybuilder holding a lollipop with the word "pop" at the height of his crotch.
With images taken mainly from American magazines, Hamilton created a provocative work in which he made mention of consumerism and advertising.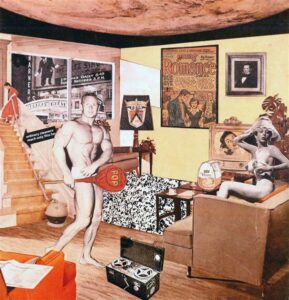 Just what is it that makes today's homes so different, so appealing? , Richard Hamilton, 1956
Two years later, art critic Lawrence Alloway (1926-1990) used the term pop art in a 1958 article.
Since then the term has been used to name a loosely coherent movement in which the artists were not interested in following a similar style or technique.
In the United States, the movement became a counterpoint to Abstract Expressionism.
With Dadaist influences, pop art artists used the mass media and advertising to create their work.
Provocative and irreverent, with very colorful images and elements that until then were unusual in traditional art, pop art made the boundaries between commercial art and high art less defined.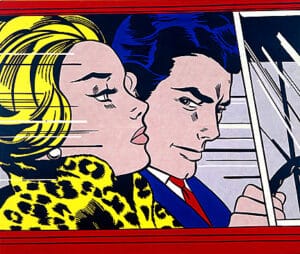 In the car, Roy Lichtenstein, 1963
Art and Consumption
Many pop art artists had previous experience in so-called commercial art.
Some were magazine illustrators, for example, which undoubtedly influenced their work.
In addition, the movement was also influenced by the very configuration of American society.
After the Second World War and with the increase of the media, it became more consumerist.
This desire for consumption is one of the main points addressed by pop art: the movie star, the soda can, everything that one wishes to have can become accessible.
How? Through an art that, reproduced widely and impersonally, is not only addressed to intellectuals.
This does not mean, however, that it is not produced and sold, for a fortune, to art galleries or collectors.
In 2013, for example, Warhol's Silver Car Crash was auctioned for more than $100 million.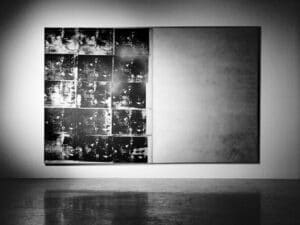 Silver Car Crash,  Andy Warhol, 1963
Want to learn more about how the Art Market works? Get to know the online course Art Market.
Andy Warhol, the face of the pop art movement
Andy Warhol, one of the most related names in pop art, used silkscreen processes in his creation.
Warhol brought soup cans, packaging, and celebrity images to the level of works of art.
After working for fashion magazines such as Vogue, and as an advertising executive, Warhol had his first solo exhibition in 1952.
In it, he presented drawings based on the work of writer Truman Capote.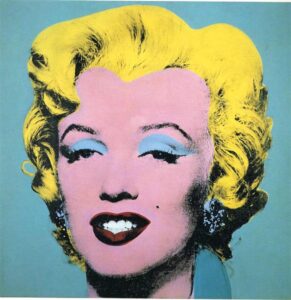 Andy Warhol, Marylin, 1964
But it was in the following decade that the artist saw his career take off, when he began to use his advertising experience to produce works of art.
Artworks that, it must be said, represented the unbridled consumer desire of Warhol's audience, from pop divas to Brillo Boxes.
Andy Warhol used strong and bright colors in his artworks, which were mechanically reproduced, especially through silkscreen printing.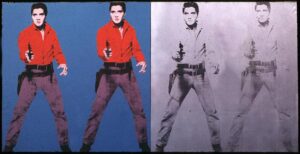 Elvis I and II, Andy Warhol, 1963
The Pop Art Movement – the success
The key point of the pop art movement was to present things that everyone would be able to identify with, not just a select group of intellectuals or an elite.
This often led them away from technical skills.
In addition, it still reflected a certain amount of optimism, in counterpoint to abstract expressionism, which made the movement indeed popular.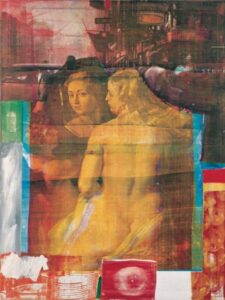 Persimmon, 1964, Robert Rauschenberg
Pop Art – identification with the consumer
Besides these accessible themes, distinct from traditional art, by embracing materialism, the pop art movement brought familiar images.
This identification, which crossed the boundaries of so-called erudite art, was essential to the movement's success.
But if, invariably, the artists ended up creating works of art for art and gallery collectors, did they really become popular?
Some did. The case of pop music record covers is a clear example of this.
The collage of the Beatles' Sgt. Pepper's Lonely Hearts Club Band (1967) and the Rolling Stones' Sticky Fingers (1971) are there to prove it.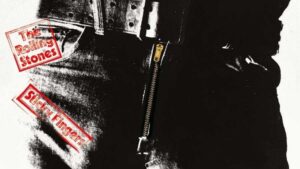 Andy Warhol, detail of the album cover Sticky Fingers, Rolling Stones, 1971
The pop art movement was one of the first movements in post modern art.
Moreover, it was one of the first artistic movements to discuss a common problem in art: what is the place of the artist and his product – his artwork?
Get to know the online courses