Get to know the Van Gogh paintings in a new immersive exhibition.
Vincent Van Gogh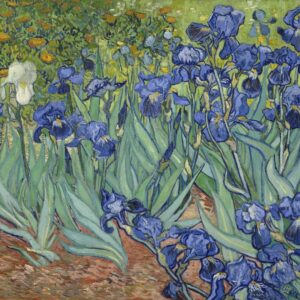 Vincent Van Gogh (1853-1890) was one of the Netherlands' most known painters. Integrating the Post Impressionist artistic movement he created new approaches to painting.
Vincent lived haunted by psychologic problems most of his life. Some art historians defend that he suffered of bipolar disorder.
The artist painted more than 2000 works in two decades. The saturated colors and strong brushstrokes are a reflection of his interior tumult.
We must not forget to look the artist in his time. Time of innovation, progress, and new advances on science. The new discoveries in the field of optics, for example, had a great influence on his paintings .
Get to know Van Gogh paintings in the post: Analysing Art – Starry Night
The Atelier des Lumiéres exhibition with the most important Van Gogh paintings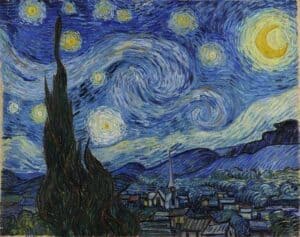 Created by Gianfranco Iannuzzi – Renato Gatto – Massimiliano Siccardi – with the musical collaboration of Luca Longobardi.
"The exhibition explores van Gogh's numerous works, which radically evolved over the years, from The Potato Eaters (1885), Sunflowers (1888) and Starry Night (1889) to Bedroom at Arles (1889).
The Atelier des Lumières highlights the Dutch painter's expressive and powerful brushstrokes and is illuminated by the bold colours of his unique paintings.
Warm hues give way to sombre colours. The immersive exhibition evokes van Gogh's highly emotional, chaotic, and poetic inner world and highlights the constant interplay of light and shade."
About the Atelier des Lumiéres
The Atelier des Lumières digital art center is about 2,000 m²  and it was built in a place that once housed a former foundry that supplied parts for the railway and naval industry between 1835 and 1935.
Bruno Monnier, the President of Culturespaces, discovered the former disused foundry in 2013.
After creating the Carrières de Lumières art centre in Les Baux-de-Provence, he had the idea of creating a Digital Art Centre in Paris.
The Martin family, which was interested in the project, agreed to rent out the great hall and its annexes to him in 2014.
Four years later, after major renovation works, the Atelier des Lumières opened its doors to the public with 3 inaugural exhibitions:
"Gustav Klimt" and "Hundertwasser" – realized by Gianfranco Iannuzzi, Renato Gatto et Massimiliano Siccardi – and
"POETIC_AI", contemporary installation by the creative new media agency Ouchhh.
---
Learn more about art history