Gian Lorenzo Bernini (Naples, December 7, 1598 – Rome, November 28, 1680) is one of the best known artists of the Italian Baroque.
Through the analysis of his work San Longino we will learn about this artist and the characteristics of Baroque sculpture.
Includes a video analysis of the sculpture.
Gian Lorenzo Bernini
During his 81 years of life he left irrefutable marks in the city of Rome especially in terms of architecture and sculpture.
St. Peter's Basilica and its colonnade, the Chigi Chapel, St. Peter's baldachin and the Ecstasy of St. Teresa are just a few examples of Gian Lorenzo Bernini's impressive work.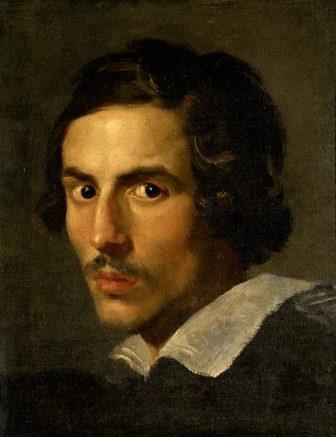 Self-portrait, Gian Lorenzo Bernini , oil on canvas, 1623, Galleria Borghese
Baroque Sculpture
Sculpture fulfilled two of the Baroque's desired characteristics: theatricality and movement.
Theatricality
First, because many of the sculptural sets, regardless of the theme that inspires them, are represented as if they were a scene from a theater.
The artist captures the moment when the pathos is most intense and evident in the expression of the characters.
Besides the protagonists, there is often the audience, which participates by watching the scene.
The Ecstasy of Saint Teresa ( image below) is one of the best known Baroque sculptures and a work by Gian Lorenzo Bernini that reflects this characteristic.

Movement
Secondly, because these artists' technical mastery over the material made them succeed in giving expression and lightness to cold, heavy blocks of marble.
The Baroque wanted to capture the moment and the movement that was implicit in it.
That is why his sculptors sought free compositional schemes and made the proportions of the human body more slender.
The taste for unbalanced poses led the Baroque to create the "serpentine figure," a representation of a body in spiral motion.
As in Gian Lorenzo Bernini 's Apollo and Daphne – currently exhibited in the Borghese Gallery.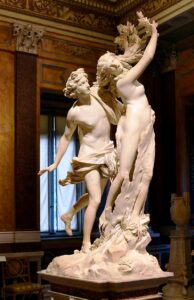 The draperies were also an important element in achieving the effect of movement.
The garments accompany the agitation of the bodies and appear fluid and undulating, accompanying the action.
Thus, in the sculpture itself there are violent games of light and shadow that bring more drama to the compositions.
Saint Longinus – Gian Lorenzo Bernini
In the following video we will analyze the sculpture by Gian Lorenzo Bernini – San Longino, in which these characteristics of Baroque sculpture are handled by the artist with enormous mastery.
We will also see how Gian Lorenzo Bernini applies another important concept of Baroque sculpture.
Sculpture becomes a fundamental element in Baroque art. Both autonomously or perfectly integrated in the architectural spaces for which it was conceived, as we will see next.
You may be interested in the online courses on Art History